A sada neočekivani OP-Z MIDI demo…
… mi smo inženjerski časopis, pa smo želeli da napravimo mali crossover projekat da završimo ovu recenziju. Uzeli smo jedan od naših omiljenih mikrokontrolera – ATMEL ATSAME51J19 baziran na SAME51 i počeli smo da radimo!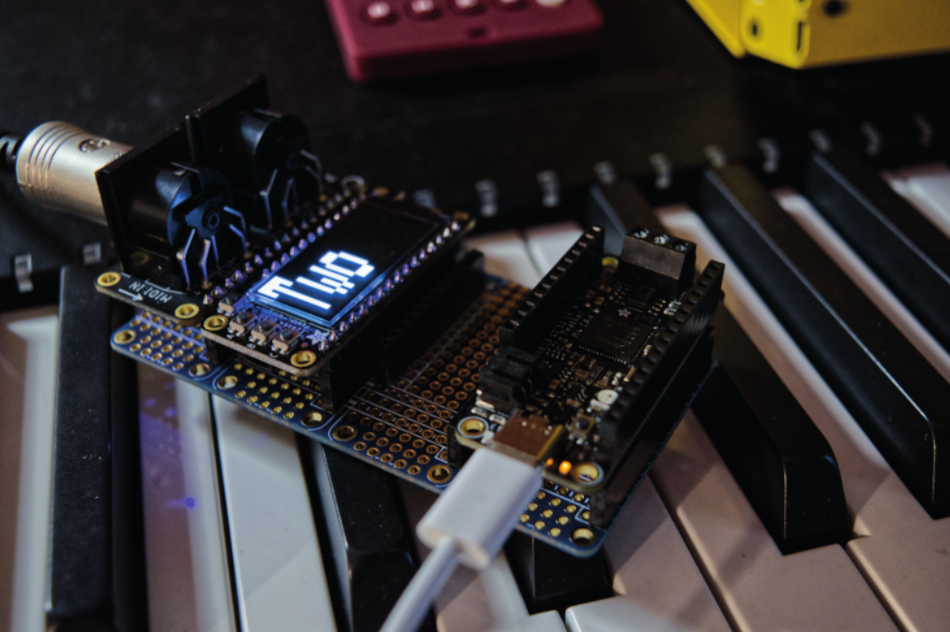 Želeli smo da OP-Z-u dodamo mali OLED ekran i da ga koristimo za prikaz trenutnog otkucaja unutar track-a. Odlučili smo da koristimo MIDI protokol za ovo, jer nam je dao potrebne podatke iz sekvencera.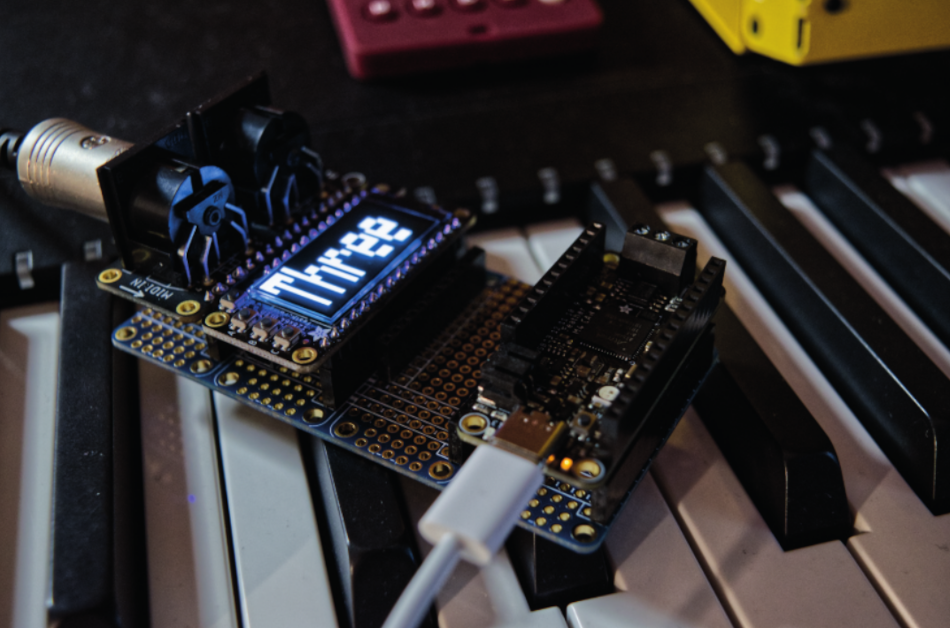 Koristeći USB-MIDI biblioteku na početku hvatamo signale start, stop i clock. Po standardnoj implementaciji MIDI, OP-Z šalje 24 clock impulsa po četvrtini. To znači da da bismo dobili tačnu sinhronizaciju otkucaja, samo treba da izbrojimo te impulse.
Nažalost, postoji mali problem što su impulsi "udaljeni" 20 ms. Jezgro MCU-a apsolutno mora biti spremno da primi impuls, a ako to ne učini – sve postaje nesinhronizovano. Uz određenu optimizaciju, M4 jezgro nije imalo problema sa održavanjem takta – i ostao nam je prilično sladak mali projekat za koji smatramo da pokazuje koliko je moguće interesantnog postići samo korišćenjem MIDI podataka.
GitHub Project Code

#include <MIDI.h>
#include <SPI.h>
#include <Wire.h>
#include <Adafruit_GFX.h>
#include <Adafruit_SH110X.h>
  #define BUTTON_A  9
  #define BUTTON_B  6
  #define BUTTON_C  5

using namespace midi;
MIDI_CREATE_DEFAULT_INSTANCE();
Adafruit_SH1107 display = Adafruit_SH1107(64, 128, &Wire);

int sync = 0;
int counter = 0;
int modeSel = 0;
bool enabler = false;
void setup()
{
    MIDI.begin(MIDI_CHANNEL_OMNI);  // Listen to all incoming messages
    delay(250); // wait for the OLED to power up
    display.begin(0x3C, true); // Address 0x3C default
    display.setRotation(1);
    
    display.clearDisplay();

    pinMode(BUTTON_A, INPUT_PULLUP);
    pinMode(BUTTON_B, INPUT_PULLUP);
    pinMode(BUTTON_C, INPUT_PULLUP);
}
void loop()
{
   digitalWrite(LED_BUILTIN, LOW);
  if(!digitalRead(BUTTON_A)) modeSel = 0;
  if(!digitalRead(BUTTON_B)) modeSel = 1;
  if(!digitalRead(BUTTON_C)) modeSel = 2;
   
   if(MIDI.read()){
            switch(MIDI.getType()){      // Get the type of the message we caught
            case Start:
            enabler = true;
            sync = 0;
            counter = 0;
            break;
            case Stop:
            enabler = false;
            display.clearDisplay();
            display.display();
            sync = 0;
            counter = 0;
            break;
            
            case Clock:
            if (enabler == true){
            
            if (sync == 0){
            switch (counter){
             case 0:
              display.clearDisplay();
              
              display.setTextSize(4,8);
              display.setTextColor(SH110X_WHITE);
              display.setCursor(0,0);
              switch(modeSel){
                case 0:
                display.print("One");
                break;
                case 1:
                display.print("Je'n");
                break;
                case 2:
                display.print("Ja--");
                break;
              }
              
              display.display();
              counter++;
              break;
              case 1:
              display.clearDisplay();

              display.setTextSize(4,8);
              display.setTextColor(SH110X_WHITE);
              display.setCursor(0,0);
              switch(modeSel){
                case 0:
                display.print("Two");
                break;
                case 1:
                display.print("Dva");
                break;
                case 2:
                display.print("--pa");
                break;
              }
              display.display();
              counter++;
              break;
              case 2:
              display.clearDisplay();
              display.setTextSize(4,8);
              display.setTextColor(SH110X_WHITE);
              display.setCursor(0,0);
              switch(modeSel){
                case 0:
                display.print("Three");
                break;
                case 1:
                display.print("Tri");
                break;
                case 2:
                display.print("pa--");
                break;
              }
              display.display();
              counter++;
              break;
              case 3:
              display.clearDisplay();
              display.setTextSize(4,8);
              display.setTextColor(SH110X_WHITE);
              display.setCursor(0,0);
              switch(modeSel){
                case 0:
                display.print("Four");
                break;
                case 1:
                display.print("Cet");
                break;
                case 2:
                display.print("--pa");
                break;
              }
              display.display();
              counter = 0;
              break;
              
            }
            
            digitalWrite(LED_BUILTIN, HIGH);
            delay(10);                // Wait for a second
            digitalWrite(LED_BUILTIN, LOW);
            sync = 24;
            }
            sync--;
            break;
           }
   }
   }
}
---
Više informacija o OP-Z: https://teenage.engineering
Distributer OP-Z u Srbiji: https://www.player.rs
Latest posts by Aleksandar
(see all)