In the last issue we've taken a look at two of Würth's excellent boards designed for the Feather ecosystem – the MagIC3 FeatherWing and the Sensor FeatherWing. Both of these offer great features and ease-of-use for a low price. In our tests, both units delivered exemplary results and demonstrated the flexibility of the format. Today we're taking a look at two more Calypso boards which were generously provided by the manufacturer – in different form actors, but both based on their own Würth Calypso WiFi module.
The Würth Calypso module itself is a shielded subunit with castellated connectors intended to be used as a complete WiFi subsystem for embedded devices. At the heart of the Würth Calypso lies a networked MCU containing a 802.11 NWP and an ARM M4 core. Additional timing and RF external antenna-driving circuitry is also located under the shield. What truly sets it apart, though, is the ProWare firmware which controls the entire TCP/IP stack and network connectivity.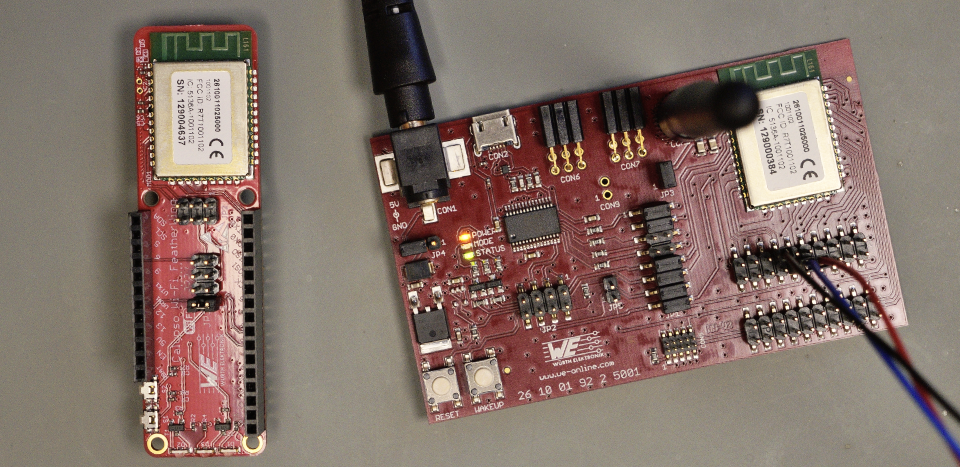 Würth Calypso's main goal is completely delegating all connectivity processing from the main MCU or application processor onto its own subsystem, thus freeing up system resources. Compared to most other options which communicate using wide parallel connections and require the main controller to constantly maintain the connection using SDK routines, Würth Calypso uses a simple UART connection and AT commands. This is akin to the way Würth's sensors handle data – offering pre-processed digital data streams instead of raw values which require additional software calculations and conversion.
The Würth Calypso has three main operating modes – command mode, provisioning mode and transparent mode. These are accessed via commands or booted right into using specific pull-up configurations on APP_MODE_0 and APP_MODE_1 pins.
The command mode is used for hand-managing connections from the MCU or the AT Commander app. This mode is ideal when prototyping with the module as a whole, establishing new connections or dealing with projects which require multiple transmission modes.
The provisioning mode is akin to that of a regular router. By connecting to the AP which Würth Calypso creates and going to the Würth Calypso.net it is possible to configure the module using a high-level GUI. Settings like WLAN connections, target configurations and server settings can all be adjusted here. Defaults set here are all stored in non-volatile memory.
Transparent mode is a simple mode designed for UART-to-WLAN bridge usage. By taking the default settings configured in provisioning mode, transparent mode allows for quick and simple data transfer between server and client devices.
In a configuration we've created, the Würth Calypso sends over data received over UART directly to the target server, and also passes all data it receives back down the UART TX/RX pair. This allows for a fully SDK-less implementation in code. This enables a great deal of flexibility in the functioning of the Würth Calypso module.
Now – let's mention the boards themselves. The first one we've tested is a full-size specialised Würth Calypso board with broken-out access to every single pin of the module. This includes a full JTAG debug interface and all of the unique Remote GPIO pins (these are "additional" remote pins which enable the Würth Calypso to autonomously gather data and process it without using any resources from the host MCU).
This board is packed with functionality and is simple to use – especially thanks to the great IO options included. It also supports connections with any microcontroller sporting a standard TX/RX pair (basically, every MCU ever made).
The board also sports a connector for a 50-ohm external antenna, greatly extending the useful range of the built-in antenna of the Würth Calypso module. Additionally, there are two proprietary 6-pin sensor connectors on the side which will be enabled in firmware at a future date.
The FeatherWing version of the same board offers almost the same functionality and the same modes, but in a smaller footprint with less dedicated IO – and in a format which fits the Feather ecosystem. This enables even more rapid prototyping with less hardware setup. We wish the smaller board kept the external antenna connector – but for the price point we cannot complain.
It's great that both of the boards feature the same module – meaning that the smaller model still gets all the power of its bigger sibling.
When working with lower-power MCUs, Würth Calypso's automatic handling of connections, certificates and other parameters is one of the greatest features of the platform. It enables the actual application to utilise full processing power instead of having connection management subroutines.
We also love the general feature set. HTTP server? Basic TCP transfers? Creating an access point? Acting as an internet access module? Pushing data to a cloud? It feels like everything you could think of is somehow already included in the stock firmware – which makes using it a breeze. There's just so much here that we could go on for days diving into every single little option.
One minor drawback of the module is the lack of 5 GHz support. While 2.4 GHz is an industry standard and the most widely used one – offering larger coverage compared to a higher-frequency protocol, the 5 GHz band is getting enough traction due to its faster speeds for us to miss its inclusion. Hopefully a Würth Calypso II module comes out in the future with this option.
Overall, the Würth Calypso module offers great features with an integrated TCP/IP stack and firmware for handling all of the nitty-gritty of wireless connectivity. During all of our tests, Würth Calypso never dropped packets or had issues – and all of the software worked perfectly.
Würth also occasionally drops significant feature improvements through an OTA firmware update channel. The Würth Calypso module also offers a full SDK for more traditional use cases.
We believe Würth made an amazing little wireless module which is elevated to new heights by great software support, autonomy and clever firmware. As an inexpensive and powerful entry point, the FeatherWing board expands any project and adds smart WiFi options to it, while the more expensive full evaluation board offers access to every single pin and truly showcases every last bit of power the module has to offer. We're quite impressed with both of these and recommend them to anyone looking for a robust, industrial connectivity option for prototyping.
More informations about Würth Calypso FeatherWing: https://www.we-online.com/catalog/en/Würth Calypso_FEATHERWING_2