Dymo's versatile industrial range of Rhino labelling tools offers an array of materials and colours suitable for a variety of applications. All of the labels are tested and certified to withstand tough industrial conditions – which include extreme temperatures, direct sunlight and exposure to water, oil or other chemicals.
Currently, Dymo offers vinyl (both standard, coloured and self-laminating), polyester, nylon, non-adhesive and shrink-wrap tags. Each of these have unique properties making them most suitable in specific scenarios.
What separates the Rhino line is the cartridge technology – most office label printers use thermal paper or tape which, while cheap, isn't a permanent labelling solution. Such labels are very sensitive to higher temperatures – and on top of that they have a tendency to fade after a while. Rhino tapes use thermal transfer technology – meaning that the ink is transferred from a separate heat-sensitive ribbon onto the label tape. The ink ribbon runs parallel to the label tape and is advanced along with it, providing a fresh surface each print. This method has serious advantages over the conventional one – as it opens up a whole library of possible label materials and colours while also enabling the printed labels to be thermally stable.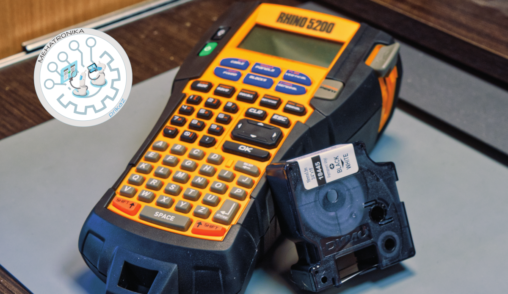 There are many things in industry that simply need to be labelled – panels, cables, storage systems, or just general things. Label makers are small thermal transfer printers that enable high-quality labels to be made on-site, and perhaps there is no better known brand than Dymo.
Today, we're glad to have our hands on one of the most popular labellers of this type – the Dymo Rhino 5200, a successor of the best-selling, industry-standard RhinoPro 5000. This review unit was sent to us by Dymo's Serbian distributor – Eurocom International d.o.o.
The kit comes with two vinyl tapes – a 12mm and a 19mm one, a nice quick reference booklet, a Li-ion battery pack, a charger, and finally, the Rhino 5200 itself. This all comes in a nice, hard plastic carrying case with a satisfying locking mechanism. The case feels durable, so no complaints there.
Onto the unit itself – it's quite a chunky device and is very solidly built. It bears Dymo's signature black-on-yellow colour scheme, with an integrated rubber holster that protects it from the wear-and-tear out on the terrain. The selection of printing tapes is also impressive, ranging from standard paper tape to vinyl, nylon, heat-shrink tubing and polyester. These tapes are all tested to withstand the elements, from UV and heat exposure to extreme cold and rain.
The Rhino 5200 is a label-making powerhouse, capable of making many different kinds of labels, including general-purpose horizontal and vertical labels, wire wraps and flags, electronics modules, blocks and panels. Each of these modes is available with one press (some require a shift-press) of a dedicated button. This brings up the setup wizard for these modes, allowing for quick setup of even the most complicated label types.
Pocket scientific calculators have spent three decades at the forefront of technology following their debut in 1972. In an era before personal computers, calculators developed and flourished, getting many features one would expect on a computer today – programming and graphing capabilities, complex data processing and expandable I/O. Long gone are those days, and although the humble calculator has largely been phased out by more powerful devices nowadays, these tiny computers are still a mainstay in the field of education – providing exactly the capabilities students need, while limiting misuse of technology in the classroom.
Looking at the west and its high-school educational system, one can but notice the powerful trend of calculator use in schools. These devices are getting more use than just simple arithmetic – with entire STEM and IOT systems being based around them (as with the TI-nSpire) or cross-calculator communication capabilities (as with the HP-Prime). Sadly, looking back at our local Serbian market, interest for such technologies is low, and calculators are rarely used, and are certainly not a part of core school equipment.
Analysing the local market for calculators, we can also see that the most popular models at the time are cheap, unbranded or knock-offmodels, while many large brands in the field aren't even covering Serbia as a region.