Together with its smaller sibling, the Galaxy Z Flip 4, the Galaxy Z Fold 4 forms the latest generation of Samsung's foldables. Both of them are devices with similar form and function, albeit targeted at vastly different markets.
In our Galaxy Z Flip 4 review, we highlighted the strengths and weaknesses of the product. While we loved the playfulness of the design, we felt that long-term durability and camera performance left a bit to be desired. While not perfect, it's the closest Samsung's been to creating the ideal small-format foldable experience.
On the other hand, the Galaxy Z Fold series isn't about that small-format experience at all. While the Flips flip open into a regular-sized device (well, maybe a little elongated), the Folds open up from a narrow full-height screen into a square tablet with a 7.6 inch diagonal (slightly less – 7.4 inches when accounting for the rounded corners). This is a lot of real estate, and definitely the main appeal of the Fold. Realistically speaking, there really isn't another way to pack such a substantial display in a pocket except making the screen foldable. This differentiates it from the quirky and whimsical nature of the Flip's foldability, where it feels more like a gimmick than a needed solution.
Build quality
Samsung's foldables are flagship devices, and their design reflects this fact. Made from premium materials, they feel really well built. Inherent to the design, however, are two major drawbacks which make them flimsier than regular models – namely the hinge and the screen material itself.
The hinge is an obvious ingress point for water and dust, as well as larger particulates, like sand, which can scuff up the mechanism from the inside. Samsung's put ample effort into engineering this component as durable as possible with hundreds of bespoke parts, but it still fails to instill the level of confidence you'd want from a $1,799 device. We've had the same issue with the Z Flip 4, where the hinge made some unsettling noises and felt gritty at times. The Z Fold's hinge – perhaps owing to the device's heftier weight and larger hinge size – feels somewhat smoother, but still isn't a perfect experience. Failure rates of this critical component keep dropping with each successive phone iteration, so while it might not feel the best, it's safe to assume it does its job just fine.
The screen is a whole another story, however. While these foldables utilize top-of the line foldable glass only several micrometers thick, developed by Schott, a reputable German glass manufacturer, any scratches of this glass layer would compromise its integrity and form a starting point for a crack to form upon successive bends. For that reason, the raw glass is coated in an additional polymer sacrificial layer (and Samsung claims to further process this composite by "inject[ing it] with a special material up to an undisclosed depth to achieve a consistent hardness" – thus creating their custom Samsung Ultra Thin Glass). These treatments protect the glass from cracking – but also make it extremely scratch-prone. These polymer-layer scratches don't pose any damage to the screen's integrity, but definitely don't look good on an expensive, flagship device.
This all boils down to one thing – you're touching and interfacing with plastic, even though there's glass underneath. And plastic scratches easily. By the time you actually get the to underlying glass layer, the screen's already been rendered unusable (as demonstrated by early models of both the Flip and Fold lineups spectacularly failing when their built-in screen protectors were removed). This also essentially means that there's no major step up in user experience between the original Fold's plastic screen and the "Ultra Thin Glass" display sported by the following three models. There might be some benefits to durability, though, as the screen bends way less than before. It actually feels rather solid this time around, which is definitely a good sign for long-term durability.
The main screen's durability is in stark contrast to the cover screen and backplate's Gorilla Glass Victus+ panels, currently one of the most durable on the market. It's a nifty choice – at least insuring that the Galaxy Z Fold 4 can talk quite a bit of damage coming its way when closed.
Screen
Like with the Flip, we've got two displays on offer here. Unlike the Flip, however, these two are both full-size Dynamic AMOLED 2X panels and both support 120 Hz refresh.
The cover panel is oddly tall and offers a weird 904-by-2316 pixel ratio (an improvement, at least, from the even more oddball 25:9 previous generation Folds had). This 23.1:9 aspect ratio is the reason its 6.2-inch panel feels significantly smaller than it really is. It's somewhat clunky for viewing content (it's wider than ultra-wide monitors!), but it's perfectly usable for texting, phone calls and light browsing. The extra real estate in the width department really makes a dramatic change in typing comfort and makes the cover screen a perfect texting machine. It's miles ahead of the dime-sized cover screen of the Flip – even though that little thing undeniably has charm. Everything the Flip's cover screen does, the Fold's does it better – and it shows. We were never frustrated by the cover screen experience on the larger sibling and it's clear why: the Flip offers less functionality than a smartwatch when closed, while the Fold remains a fully-featured phone.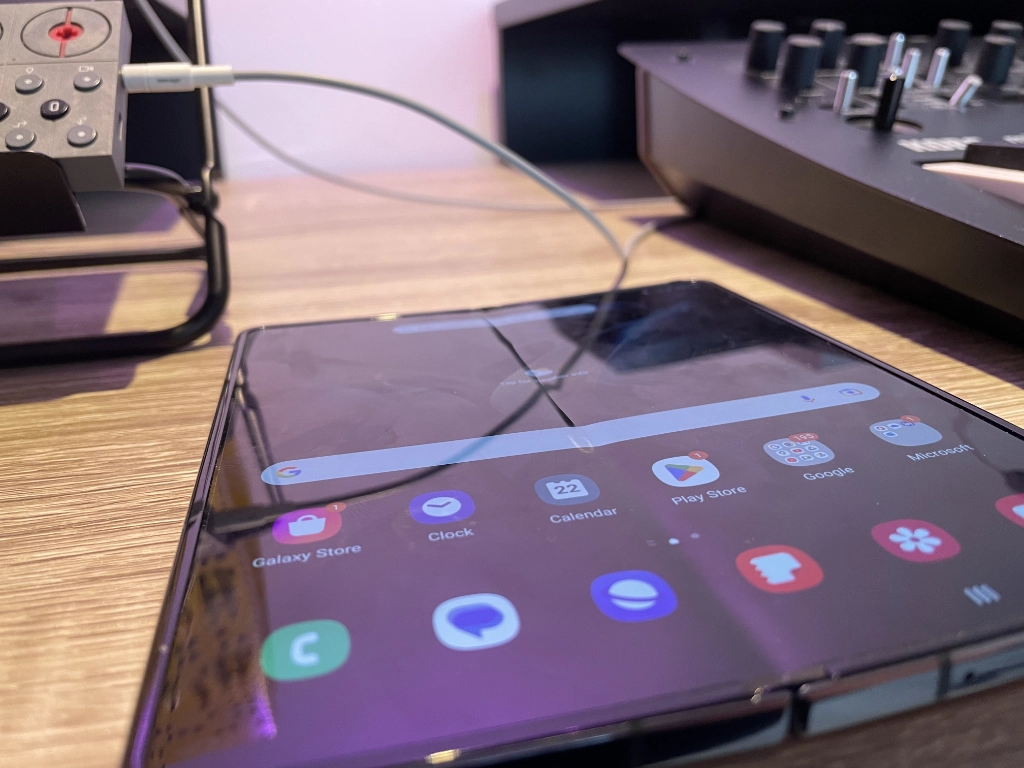 The main panel's rated for HDR 10+ content is rated at a standard 1200 nits of brightness. Of course, due to thermal considerations and power consumption, it's only attainable when portions of the screen display content. In our tests, full-screen peak brightness maxes out at around 996 nits when measured with a colorimeter, or at 1259 nits when utilising the checkerboard test technique. These results are consistent with both the spec sheet and are very similar to the main display of the Galaxy Z Flip 4.
The resolution we're dealing with here is yet again, quite non-traditional, coming in at 1812-by-2176 pixels, for an aspect ratio of 21.6:18. It's almost a square! And it feels like it when using it, but it's a feeling we oddly like. The keyboard is optimized for two-handed thumb typing, and is split into two button clusters on the sides of the screen. The entire OS feels more like a Tablet OS when used on the main screen, and it definitely draws inspiration from Samsung's own DeX software.
Both screens look pretty good, and that's expected from a flagship phone. Yeah, the main panel has the dreaded crease down the middle which all foldables have, but the panels looking perfect isn't the main appeal of the Fold, anyways. The available real estate is – and the gorgeous main panel definitely delivers a mighty productivity punch. While again, the weird aspect ratio made content consumption somewhat awkward (16:9 is still by far the most widely used aspect ratio), the large screen enabled easy multi-tasking, provided ample room for jotting (the Galaxy Z Fold 4 now supports the S Pen, albeit only the new Fold edition ones should be used as their spring-loaded tips won't dent the delicate displays) and running apps side-to-side was a joy. Just like the Flip, the Fold has a lot of tricks up its sleeve when the screen is halfway bent: from unique app interfaces to even more visually striking multitasking options. The UI takes full advantage of the display, and we're all for it.
Design and usability
The Z Galaxy Z Fold 4 is surprisingly usable. It feels just right. It's a bit of a slab when folded, feeling quite tiresome when held in one hand. At 263 g, it's heavier than the iPhone 14 Pro Max, and almost 50% heavier than the Galaxy Flip, so it's by no means a light phone. When opened up, however, it's more fair comparing it to a tablet, as it's held like one. This time around, even the iPad mini weighs more. Used with both hands, it's quite a comfortable device.
We wish the S Pen was included and that there was on-board space to store it, as it's almost a necessity, but we're also sure there was no internal space left over for something like this. These are complex phones.
Camera
This is Samsung's first good foldable camera. It's main 50 MP shooter has 44% smaller pixels than its 12 MP Fold 3 predecessor, but uses pixel binning to achieve similar low-light performance. The wide-angle camera remains unchanged at 12 MP, but the telephoto lens dropped down from 12 MP to 10 MP, while the optics around it increased their zoom to a 3x one. It's a valid compromise, and keeping in mind the excellent telephoto performance of Galaxy S22's 10 MP shooter, there shouldn't be any real drawbacks.
The two front facing cameras (the 10 MP cover display shooter and the meagre 4 MP main panel one) haven't been improved themselves, but the 4 MP under-screen camera has been better hidden by a reportedly higher (132 PPI, as opposed to 94 PPI) pixel density in the area of the screen above it. In our experience, it's still visible, but noticeably less so.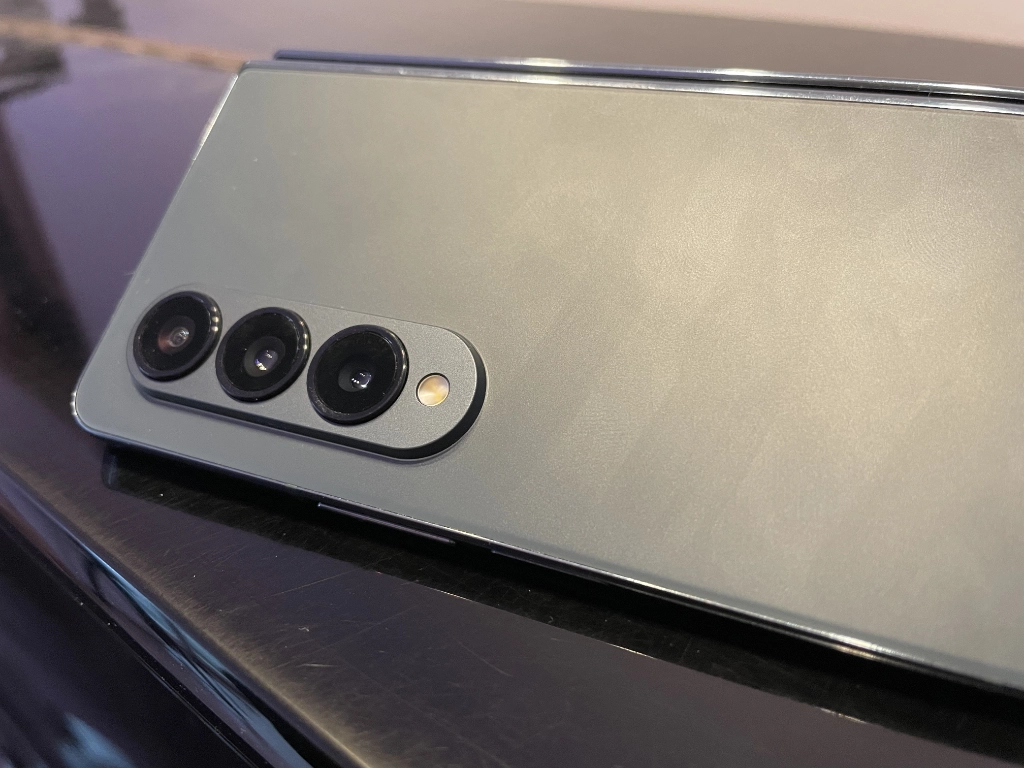 Given the Galaxy Z Fold 4's back selfie function, there's no real need to reach for the front shooters which look rather blurry. Just opt to use the main sensor, and you should get amazing selfie shots.
Software
The Fold ships Android 12L, a special version of Android made with foldable phones in mind. There's also OneUI, which adds additional features from the Samsung ecosystem. Everything you'd expect from an S-series flagship can be found here, as well, and it works great! Apps switch perfectly between the front screen and the main display seamlessly, making each an extension of the other. As already mentioned, the main camera array can utilize the cover display to preview shots, enabling selfies taken with the back camera – like on the Flip.
Performance
Boasting Qualcomm's Snapdragon 8+ Gen 1 chipset, the Galaxy Galaxy Z Fold 4 is no slouch, easily being one of the fastest Android phones on the market. Opening apps, playing games and photo editing was smooth as butter. Modern Apple silicon still beats almost all other ARM CPUs in the mobile market, but it's no good comparing apples to… Androids.
Our Galaxy Z Fold 4 scored 1,323/3,942 on the Geekbench 5 CPU test, 6629 the Geekbench 5 compute test and 2,842 on the 3DMark Wild Life Extreme test. Consistent results with other phones on the same platform. The Fold also deserves praise for impressive thermal management – with the back of the phone never reaching over 40 degrees in our testing and thermal throttling being much less pronounced than in most recent Samsung phones.
The Galaxy Z Fold 4 features 12 GB of RAM, (this is the main spec difference from the Flip) and comes in 256 GB, 512 GB and 1 TB configurations. It's a whole lot of storage for a phone, but then again…
The Galaxy Z Fold 4 is not just a phone…
It is due time for the return of the phablet. It's the same idea as before, but we're approaching it cleverly this time around. Phones aren't just communication machines anymore – they are productivity devices – and in the realm of computers, productivity takes up screen real estate. Sure, typing out a document on a 5.42-inch iPhone 13 mini is possible, and quite snappy, as an added bonus, but it's painstakingly tedious. The freedom to move windows around, resize them, multitask without feeling cramped, open desktop websites and then fit the device in your pocket has been enabled by the advent of flexible displays. Games play that much better because of the larger screen, even chats look neater and show more content. It's great!
And Samsung finally got it just right, too. The 4400 mAh battery is massive and provides all-day battery life to the two power-hungry displays and the powerful chipset (we got around 12 hours of screen-on, WiFi-on time on a single charge – more than enough to get through the day), significantly better than both the Fold 3 and the Flip 4, and ironically, the S22. The cameras are good, the performance is top-notch. It's finally a viable daily driver.
It's a great device. It really is. Unlike the Flip, which is a statement piece, the Fold means serious business, and in certain workflows it can definitely replace the need for a tablet, or even a laptop.
It's worth noting, however, that Android tablets just aren't up to par with the capabilities provided by iPads, and definitely aren't even close to the performance level offered by the M1 and M2 chips utilized by higher-end models.
It's also worth noting that, while powerful, both of these tablet options aren't nearly as flexible as a laptop running a full desktop OS.
…and it comes with a price to match
And here we are at our final point. The hard-to-swallow $1,799 entry-level price point climbs to a mind-numbing $2,159 for the 1 TB model. You can buy a base-tier iPhone 13 and an M2 MacBook Air for the same price, which are a much more productive combo ($599 and $1199, respectively). You can get the excellent Google Pixel 7 Pro and have around a thousand dollars left, or you can, if you really need a foldable, even get the playful Galaxy Z Flip and an M1 iPad Air for a $100 less. All of these options are undeniably more useful.
But nevertheless, like with the Flip, there's an undeniable charm and fascination which attracts people to foldables. There's just something cool about having a 7.6 inch screen comfortably fit in your pocket.