Foldable phones have been all the hype in recent years. Strictly speaking, these are not a new idea. The first concept foldable phone was the Nokia Morph – which never saw a functional prototype developed. In the early 2010s, Samsung and LG – the forerunners of OLED tech – developed functional displays which could handle some bending. While the early-to-mid 2010s were filled with prototype foldable devices, 2018 was the year when the first commercially available foldable hit the market – the Royole FlexPai.
What the FlexPai did was prove to the world that there was a place for a foldable phone in the consumer market – but what it did not achieve was perfection. The screen was fragile and easily damaged, the specs weren't anything to write home about and the hinge – the lifeblood of any foldable – proved to be a much bigger issue than anticipated.
A hinge is an obvious ingress point for dust and water – so early models often had serious durability issues. Part of the smartphone's ubiquity lies in the simplicity of its design – no motors, bearings or other mechanical moving parts which can easily break or malfunction. This is exactly why models with pop-out front cameras are traditionally seen as unreliable and why many curious ideas like the LG Wing never entered the mainstream.
While Royole had introduced their first foldable a year before Samsung had its first contender – Samsung's 2019 Fold was the first true noteworthy device of the sort. Nevertheless, early review units had issues with the protective foil on the screen, as well as numerous reports of gritty hinges. Also, the crease. The crease is simply a part of life for foldable owners. This line naturally occurs on all inwards-bending displays. Samsung engineered their hinges to bend the displays at rather sharp angles (which is good), which sadly does increase the prominence of this line, visible at every angle except a straight-on view of the screen.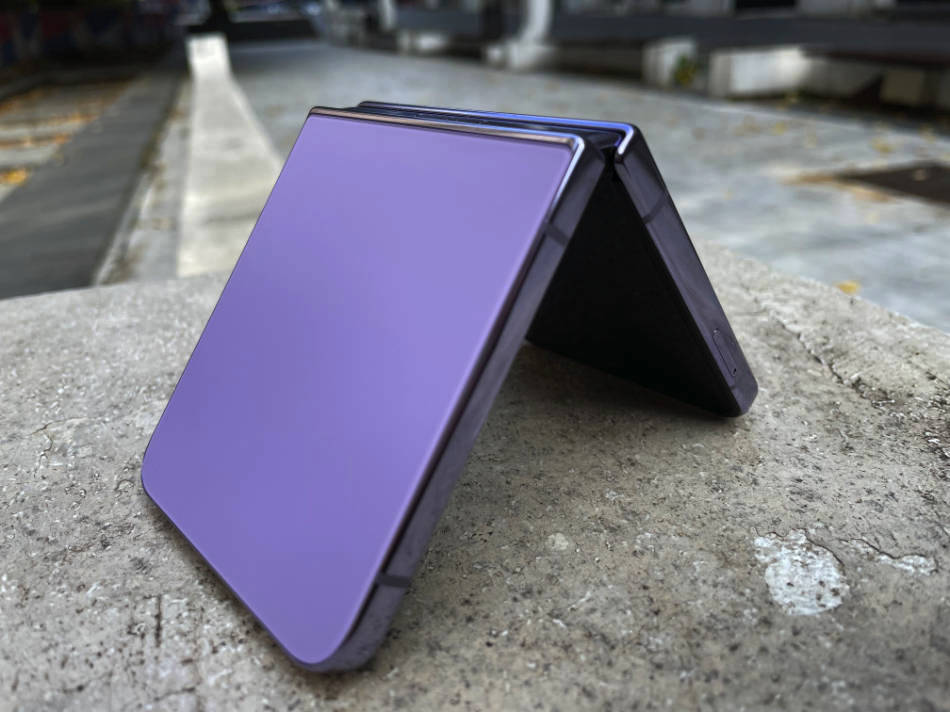 Over the course of almost four years, Samsung has diversified and developed their foldable line. Today, we're lucky to be holding the just-released Galaxy Z Flip 4 – Samsung's newest small-format folding phone. It features the latest and greatest hardware and the most durable frame yet. In this review, we'll dig a bit deeper under the hood to see if the new Flip offers enough utility to earn a spot as your daily driver.
Let's address the elephant in the room. The thing folds. Opened up, it presents its beautiful 6.7-inch Dynamic AMOLED 2X screen (more classic marketing talk from Samsung – it basically means it's a second-generation HDR10+ certified AMOLED screen). Once folded, however, it transforms into a shape roughly reminiscent to a deck of cards. Sure – it's a bit chubby like this – but its small footprint makes it a very comfortable phone to carry. And honestly, it has charm. The color schemes are great – and there's the possibility of ordering your own "bespoke" designs directly from Samsung. The slightly-tinted mirror-finish trim around the frame nicely wraps the device up, and the hinge looks and feels like a piece of art. The weight is also just right. It feels light when unfolded, but like a solid chunk of tech when closed. It gives you a sense of confidence.
The thing has character, and we're all for it.
The Galaxy Z Flip 4 also has a $1,000 price point for the starting 256GB model – which climbs to $1,060 and $1,180 for the 512GB and 1TB models, respectively. This is steep – but not unheard of in the phone world – and for such a unique phone with a slew of fully custom parts, it's no surprise.
Good thing, then, is that the Galaxy Z Flip 4 also packs the best Snapdragon chipset on the market right now – the Snapdragon 8+ Gen 1. It's a gradual step up from its predecessor – the Snapdragon 8 Gen 1 (it offers somewhere between 7% and 20% better performance, according to various sources and benchmarks). It's a more efficient chip too, promising better battery life and somewhat more future-proofing. The 8GB of RAM aren't the most out there, but they are definitely enough for a smartphone (and the RAM Plus feature included in OneUI can soften the blow on a $1k smartphone).
Yet another good thing is the IPX8 rating. This rating means that the phone can survive being submerged in 1.5m deep water for up to 30 minutes. It's great, in fact, as long as you're willing to overlook that "X" part, which means the phone has absolutely no ingress protection against dust. None. That hinge still can't do much against the onslaught of tiny particles coming its way – no matter how much Samsung tries to accomplish with tight tolerances, little bristles which clean the hinge on the inside or other nifty engineering solutions. Not ideal for something designed to be kept in a pocket – a place notoriously full of lint. There are plenty of reports of caked-in or gritty hinges on the preceding models. Shame, since the tactility of the hinge is ridiculously fun – and one of the most unique parts of the device (a bit of a fidget toy, in all honesty).
As with all foldable phones, the folding screen is also really fragile. Instead of regular tempered glass, the screen uses an almost microscopic layer of silica which allows for the flexibility without cracking. This glass scratches at a level 2 on the Mohs scale, meaning that even fingernails can leave permanent dents on the surface. Because of this, Samsung ships the Flip with a pre-applied screen protector – but a grain of sand or a dust particle stuck on the screen can do serious damage if it isn't removed prior to closing the phone.
On the other hand, this thin layer of glass does mean that your fingers are even closer to the active part of the display than ever before. After trying it out, even laminated screens feel less immediate. There's no other device which makes content feel more alive and "there", and it's a lovely experience.
The screen also has all the classic Samsung bells and whistles. While one definitely doesn't buy a foldable just for the display quality – it's important to mention that the Galaxy Z Flip 4 screen features all of the flagship specs found on the S22 series of phones. The peak brightness is rated at 1200 nits when watching HDR content. In our tests with a colorimeter, the Galaxy Z Flip 4 hit 1,094 nits and in an HDR checkerboard test, we managed to get around 1259 nits. This is a respectable spec – and our results definitely line up with it. Sadly, the viewing angles aren't too great. The screen gets one of the strongest blue discolorations we've seen when looked at from an angle. This is common in OLED screens – but is quite out of place for a foldable. Using the screen folded isn't really enjoyable when half of it looks subpar.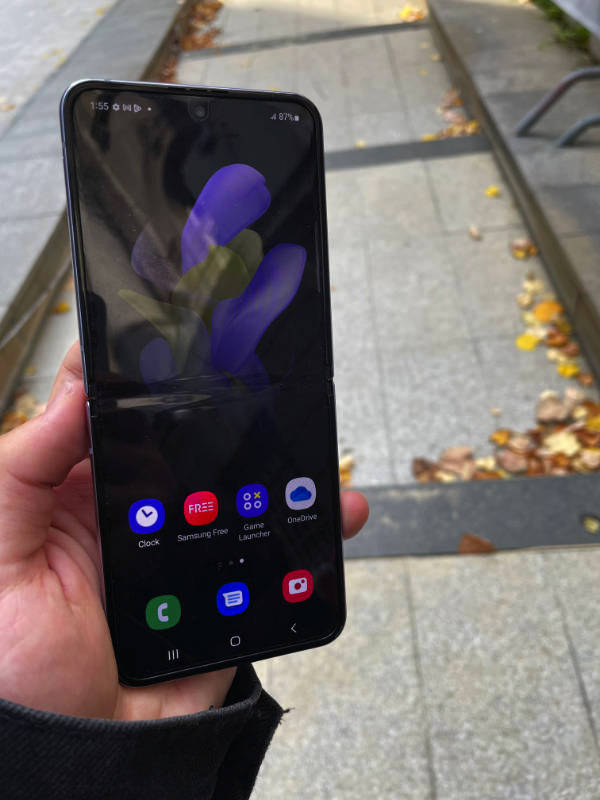 The cover screen is a bit of a different story. It's a great screen – and it looks and feels a lot like Samsung's smartwatch screens. However, we wish it did more. Yeah, there's a tiny calendar and a cute timer and so much more – but most of these functions are limited. The calendar can't show any schedule info in detail on this small display, instead requiring the use of the main display. The timer can only be used for 10, 15 and 30-minute intervals. Everything else requires the phone to be opened. Why couldn't there be an Apple Watch-esque interface for replying to messages, for example? Effectively, every other action we'd like to perform on this display hits us with a "Open phone to continue" eventually. This makes it faster to just open the phone and find the right app than to guess whether the cover screen is capable of something or not.
The audio side of the story is great. The earpiece is finally not under the screen, meaning that both the main speaker and the headset one sound equally good. This is great news for stereo, which does sound true to life. However, the speakers themselves are a bit quieter and tinnier than the ones in the S22, so we'd say that the overall sound quality is roughly the same. The microphones also pick up audio faithfully and sound decent. Overall, a solid audio setup.
The cameras are not the main point of the Galaxy Z Flip 4, and they certainly don't get the same treatment as the cameras on the S22 series. That's not to say that the Flip's dual-camera system isn't good – but it's a lot more akin to the S21 series' modules. There's a main 12MP shooter and another 12MP wide angle camera. That's your lot. There's OIS on the main lens, lack of which would be criminal at this price point, but not on the wide-angle camera, which is not much of a surprise, either. The main cameras on the back are nothing incredible, but are definitely capable of taking good low-light shots and have decent dynamic range.
The front camera is sub-par. It's an 8MP shooter which really only has use for video calls or quick selfies. However, the Flip 4 has a trick up its sleeve here. The cover screen can be used for previewing the shot from the back camera – effectively enabling you to take selfie shots with the main lens. Does this fully alleviate our woes with the lukewarm selfie cam? Maybe, but it's definitely a unique feature.
One of the upsides of the Flip's camera system is definitely the versatility of the device itself. It can prop itself up in various configurations, and allow you to snap shots from some crazy angles. While the cameras aren't exactly cutting-edge in 2022, the device they're on definitely pushes their usefulness to the absolute maximum. For this reason, the camera setup is surprisingly appealing, and earns some additional points.
Flip 4's performance is nothing to scoff at. It does, ultimately, sport Qualcomm's latest and greatest SoC – the Snapdragon 8+ Gen 1. This chipset truly outperforms all Android processors, and as such, makes the Flip 4 one of the fastest available devices on the market. The Flip 4 scored a mighty 1,293/4,060 on the Geekbench 5 CPU test, 6429 the Geekbench 5 compute test and 2,838 on the 3DMark Wild Life Extreme test. This is better than any other Samsung phone available right now, and a tad below Apple's A15 and A16-based devices.
The battery life is good – but not great. Compared to non-foldable devices, foldables have always boasted worse battery life. The Flip 4 almost crosses into this territory – with a 9.2 hour screen-on, internet-on battery life in our experience. This is enough to get through a day – and surprisingly better than the Galaxy S22 (which gets about 8 hours on a good day) – but is still not ideal. Top dogs in this territory can easily boast 12 or more hours, so the Flip might feel just a little bit lacking.
OneUI for the Z Flip lineup is a bit different – built atop Android 12L (the "L" is a special feature drop update for foldables), and as such has features like the Flip Mode. This essentially splits the screen into two – with the top half being your content display and the bottom half used for controlling said content. There's even a trackpad mode for those of you itching to get a DEX-like cursor experience on one half of a phone screen. Lovely.
So, should you get the Galaxy Z Flip 4? It's definitely a party piece. It's a phone which puts form over function and that's okay – that's what foldables do. It has style, it has class and it has a huge personality. It's definitely a conversation starter and it's really fun to use.
The core specs are absolutely killer – with a fast chip and a good amount of both RAM and storage. Are they killer for a $1000? Maybe. There are phones with the same chipset for a little more than half the asking price.
Is the screen the best out there? Definitely not – and some of Samsung's own offerings outperform it – and there's a deep ridge right down the middle of your content. Some people can't even handle micro-scratches – so the crease can be a huge nuisance. And trust us, with that soft screen, you'll get plenty of micro-scratches to go with that crease, too.
Is the battery life good? Kinda. There's no better foldable on the market in this department right now.
Are the cameras the best out there? No. And the $749 S22 runs laps around them. Many other phones do, as well.
But if you're in the market for a foldable, you don't really care about any of this. You want a phone that's going to do its job well and that's going to… well… fold. It's an incredibly handy feature: it enables creative camera uses, it enables more efficient multi-tasking. The cover screen does add some extra value to the bundle. And sure, all of these features can be accomplished with a much cheaper phone and some extra accessories and software – but where's the fun in that?
You're not a buying a foldable phone because you want a modern flagship. You're buying it because you want a statement piece. You want something different – even if it might come with some compromises or be a little impractical at times. You're ready to babysit your phone much more than a conventional "slab" handset.
And you'll be ready to shell out those $1000 for the best small-form factor foldable, as well.