Robot-guided palletizing systems are an efficient way of increasing the flexibility of machine tools. They help minimizing machine downtime during the production of individual pieces and small series and enable reduced-manning production in three-shift operation. In this process, precise interaction between the individual gripping system and the clamping technology components is crucial.
The rapidly growing range in size and product variants as well as an increasing cost pressure are requiring automated process design in production more and more. The maximization of main times and minimization of personnel costs, which in the past only applied to large quantities, has now become possible for small and very small lot sizes. Using robots in particular is considered to be an especially flexible way of increasing efficiency, provided that their peripherals are precisely aligned with the respective requirements.
Quick-change pallet system as a basis
A basic distinction can be made between two types of automated machine loading:
For large series and long processing times, workpieces are generally loaded directly into stationary clamping devices, such as power-operated multi-jaw chucks or power lathe chucks, for example in the compact, high-performance SCHUNK TANDEM plus clamping force blocks. The one-piece rigid base body, wedge hook kinematics and long, ground jaw guidances provide for concentrated clamping forces of up to 55 kN. At the same time, they ensure an excellent repeat accuracy of up to 0.01 mm. Therefore the clamping force blocks are also ideally suitable for milling operations with a high stock removal, high number of cycles, and minimum tolerances. Their optimized external contour and minimal gap size prevent the accumulation of chips or dust in the vise.
For medium-sized and small series, more and more users decide for an automated clamping solution. This is described in detail below: When clamping devices are automatically changed, the entire clamping device, including the workpieces that have been clamped manually, are handled on workpiece pallets. Robot-supported palletizing systems make this possible in conjunction with an especially fast, highly flexible yet process-stable change of clamping devices. For this process, workpieces and clamping devices are installed on the pallets, arranged in storage racks and successively transferred to the machining center by each robot from the pallet storage rack. The central element in the machine is a quick-change pallet system. In a matter of seconds, this element helps to fix, position and clamp the workpiece carrier pallets on the machine table automatically and precisely according to a reference value. The actual set-up operation takes place outside of the machine during the processing time, making it especially economical.
Automated interface cleaning
The bottom of each individual pallet is equipped with an interface to the quick-change pallet system, through which they are connected to the machine. Special components, such as the SCHUNK VERO-S NSA plus palletizing module, have been developed specifically for robot-supported machine loading. They are extremely flat and can be integrated directly into the machine table, and leave plenty of space in the machine room for the workpiece and for axis movements. With the patented dual stroke system, they can achieve pull-down forces of up to 20,000 N and holding forces of over 100,000 N. The robust modules even ensure a precise hold under the challenging demands of volume machining. To prevent chips and dirt from endangering the pallet changing process, a positively driven air flow cleans the flat surfaces and the short taper. This ensures a chip-free flat work surface for the pallet. Entry radii on the clamping module enable quick and secure joining, even with eccentricity or slightly inclined position of the pallet. This way, tolerances of the handling system can be optimally compensated. Afterwards, centering rings apply precise positioning according to a reference value, before the clamping slides ultimately ensure form-fitting, self-locking clamping with a repeat accuracy <0.005 mm.
Lifting pins facilitate automated removal
In order to change the workpiece, a lifting pin raises the pallet by up to 5 mm after machining, thus facilitating the changing process. All process steps, i.e., the "module open", "module closed" and "pallet present" states are monitored using dynamic pressure monitoring. In contrast to other clamping systems, the SCHUNK VERO-S NSA plus palletizing module does not consume any energy when processing. The workpieces remain safely clamped even if the pressure in the air system were to drop suddenly. For opening the module, a pneumatic system pressure of 6 bar is enough. This saves the use of expensive hydraulic systems and elaborate piping. In order to ensure a long service life, all functional components, such as base body, clamping slide, and clamping rings are made of hardened stainless steel, making them absolutely corrosion resistant.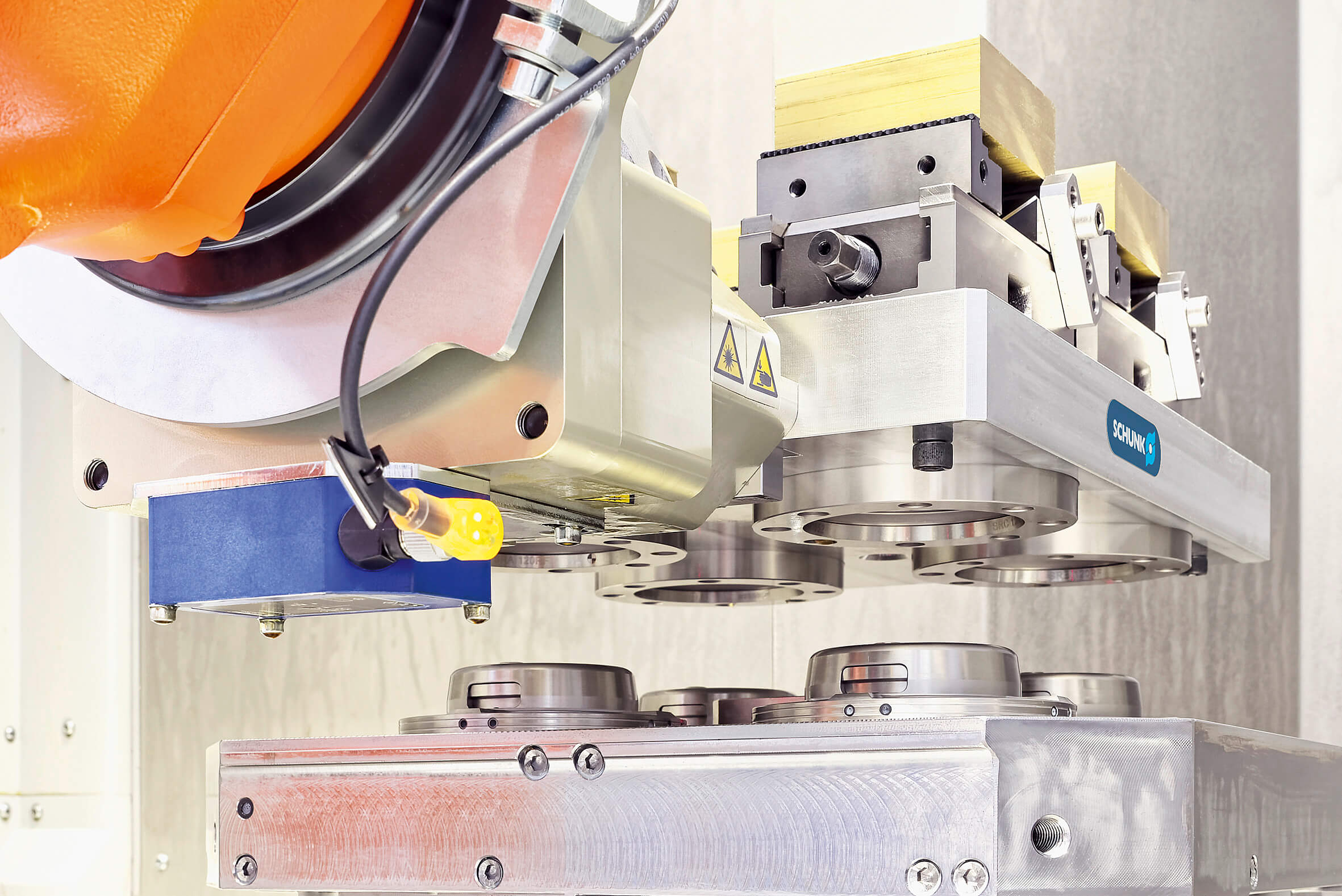 Special handling systems
In order to ensure a process-stable pallet change in fully automated operation, using special handling modules is recommended, such as the slim SCHUNK VERO-S NSR lightweight coupling with minimal interfering contour. This can be used even in confined spaces and allows for pallet loading extremely close to the machine table. It allows for very flat attachments consisting of a clamping station and pallet. Weighing only 1,600 g (NSR 160), the module allows high maximum moments of up to 1,600 Nm (Mz) or 600 Nm (Mx). In additon, there is also the VERO-S NSR mini miniature coupling with a robot-friendly weight of only 400 g (Mx max 75 Nm, Mz max 200 Nm). At the opposite end of the weight scale, the VERO-S NSR maxi heavy-duty robot coupling for heavy pallets and tombstones (Mx max 4,000 Nm, My max 4,000 Nm). To ensure process reliable function in challenging environments, the couplings are completely sealed to keep out chips and coolant. In addition, a standard cleaning function ensures a chip-free flat work surface between the pallet and the robot coupling. In addition, steel inlays on the contact points make the couplings extremely wear-resistant.
Modular clamping technology system enables efficient pallet solutions
The clamping pallets can be equipped with a wide variety of clamping devices from the world's largest modular system for stationary workpiece clamping from SCHUNK, including 1,000 possible combinations. For example, the manually operated SCHUNK KONTEC KSC basic clamping vises are particularly efficient all-rounders for machining raw and finished parts on pallet systems. They combine high clamping forces, convenient operation, and short set-up times.
With comparably low torques, they can achieve high clamping forces of 50 kN (size 160), meaning that a separate stamping station for form-fit clamping is no longer needed. As the clamping takes place under tension, the bending load on the base body and thereby the lifting up of the clamping device are minimized, which adds to the accuracy and rigidity of the clamping.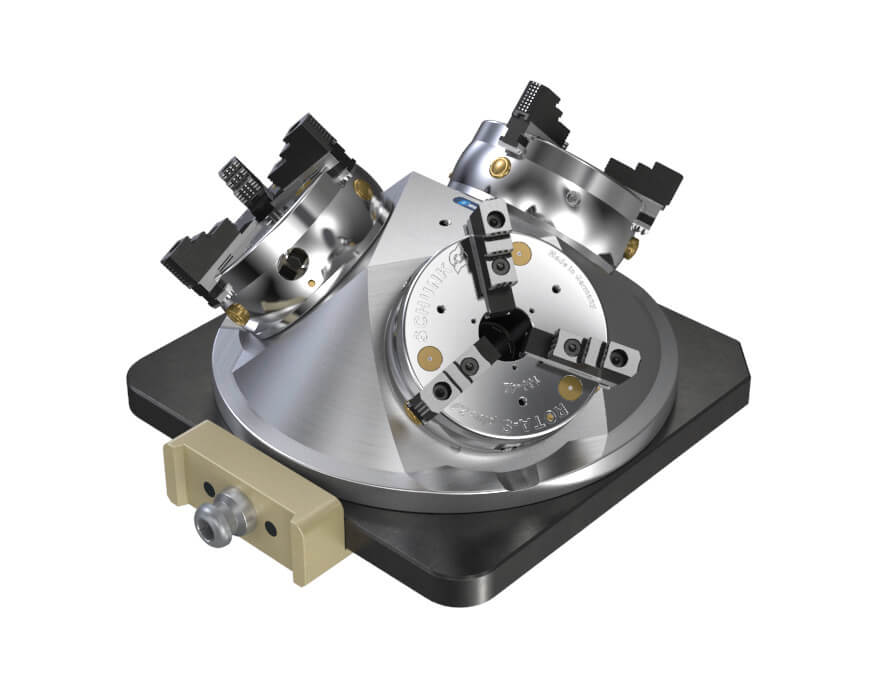 A pre-tensioned center bearing without spindle reverse clearance and specially adjusted slides guarantee an excellent repeat accuracy of +/- 0.015 mm. The fully encapsulated drive and an integrated chip outlet ensure particularly high process stability and minimum wear. The basic clamping vises are available as centric clamping vises or as single-acting vises with a fixed jaw. They offer fast adjustment of the clamping range, a flat design, and low weight – the perfect conditions for unmanned workpiece handling. When several workpieces are to be clamped next to each other in confined spaces, SCHUNK KONTEC multi clamping vises are the ideal solution.
These require a single spanner wrench to clamp parts, remove chuck jaws completely by means of quick change or quickly and flexibly convert the clamping system to different workpieces. Spring-loaded SCHUNK TANDEM clamping force blocks, on the other hand, enable particularly compact structures. For clamping cylindrical parts, the SCHUNK ROTA-S plus 2.0 three-jaw chuck can be used. Tombstones with interfaces to the SCHUNK VERO-S quick-change pallet system can now be handled by robots as well.
More informations: SCHUNK Intec GmbH, Friedrich-Schunk-Straße 1, 4511 Allhaming, Austria, info@at.schunk.com, www.schunk.com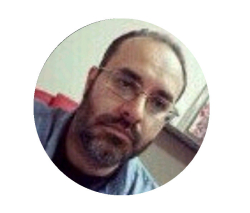 Latest posts by Aleksandar
(see all)