History of Raspberry Pi Zero 2 W
A few decades ago, computers were big, clunky boxes that were full of discrete electronics, daughter boards and expansion slots. Miniaturisation brought us to a slimmer, sleeker form factor but only further increased production costs from an already high starting point. As hobbyist projects moved away from the analog into the digital realm, a need for low-cost, almost "throwaway" computing platforms started being obvious. The first Raspberry Pi computer that hit the market (simply named the "Raspberry Pi Model B") released in early 2012, using an ARM11-based core. Since then, we've moved away from now two-decades old ARM11 CPUs and onto modern ARM-A series chipsets.
Already affordable and compact, 2012's Model B was made more of both in 2014, with the release of the original Raspberry Pi Zero. This board is stunningly tiny, even today, and packs more raw processing power as well – for a grand total of $5. Alas, with the Raspberry Pi 3 and 4 (and 400) models coming out since, and the shift to more power-hungry technologies in projects, the tiniest Pi fell out of favour, while its three refreshes – adding the originally absent camera connector, WiFi-connectivity and pre-soldered headers, respectively, did little to spruce up its internals, and as such, the tiny board was used in but the simplest of projects by the end of the decade.
And then 2021 came, and we got the long-needed spec bump to the Pi Zero – the new Raspberry Pi Zero 2 W, which now features a quad-core 64-bit BCM2710A1 processor, based on the Cortex A53 architecture. This is the same chip we've seen previously on the Raspberry Pi 3 – but slightly underclocked to 1 GHz on this new model. What's lovely is that the physical dimensions and connections have stayed exactly the same. This means that the new Zero is a drop-in replacement for the old one, making migration that much easier.
The two micro-usb ports, a mini-HDMI port and the CSI connector all stayed, and are in the same position. While a more modern range of IO would have been nice, it's useful that nothing changed, if only for compatibility's sake. Sadly, some cases seem to not work with the new model due to some components being shifted around (most notably the Pi 3 Model B+-esque metal antenna cover). The new RAM placement solution is also interesting – as it's integrated together with the CPU in a SiP configuration. Sadly, though, there's only 512 MB of RAM present here, and it's one of the main features holding back performance.
Now, onto some tests. The Raspberry Pi Zero 2 W unit that we're having at our desk has been generously sent to us by Raspberry Pi.
While reading through these, it's important to keep in mind that this is a $15 board, and that the point of reference should be the previous-gen Pi Zero, and not the upmarket 4B/400 models which cost more but pack more of a punch. And yes, don't expect the new Zero to win any points over even the last-gen Pi 3B, either.
Using the OS was a sluggish, albeit expectedly so, experience. Apps that we're used to opening in a flash took forever to do so, and in our favourite Octane benchmark, the Zero scored only 1809 points (almost 4x slower than the Pi 4B). Watching YouTube wasn't great in 1080p, but was passable in 720p thanks to the pretty decent WiFi PCB antenna. RealVNC's VNC Viewer runs pretty well and streams stable 1080p footage to clients, making a headless setup perfectly usable.
Specs
We were monitoring the temperatures and power draws of the die during all of these tests, and while the Raspberry Pi Zero 2 W drew more power and heated up more than its predecessor (3.5 watts was the most it drew from our PSU, and the temps maxed out at 70 degrees under full load) we didn't find that it required any significant cooling, active or passive, to avoid throttling at stock frequencies, unlike it's bigger siblings.
Unlike the early production units of the RPi 4B, the Raspberry Pi Zero 2 W is easily overclockable, and our model had stable operation up until 1,3 GHz, after which we started getting random system crashes. It's important to note that while overclocking, active cooling is absolutely necessary to keep the system temps in check. While some performance gains were noted (somewhat faster boot times, 2242 points on the Octane benchmark instead of the initial 1809 – a nicer number for sure, but fundamentally minuscule of an improvement) the overall system experience stayed sluggish, again crippled by the 512 MB of RAM.
We would also like to note that installing Raspberry Pi OS (formerly Raspbian) wasn't as smooth as we'd hoped to see. While the "Lite" (CLI only) versions installed perfectly, the recent 64-bit desktop releases had issues even booting up on the Pi Zero 2. After some research, it turned out to be a known bug that was being worked on. Things like these can be expected with newly released hardware, but we still found it a tiny bit odd, given that the new Zero 2 uses the same CPU found in some older boards.
A similar story was seen with third-party OSs, with some straight up failing to boot on the Zero 2. Retropie for the Pi 3 booted up without issue and worked pretty well, while our experience with Ubuntu or Armbian was quite the opposite, with them failing to even boot. If you're looking for multiple OS support that Pi computers a known for, it's worth looking at their other models as of the time of writing.
Reading this, one might easily dismiss the new Zero as a slow, boring release among some of the most powerful computers Raspberry Pi's put out in the past few years. While there's some truth to that, the Raspberry Pi Zero 2 W is anything but! The new SoC (well, SiP, if we're being really precise) is a welcome upgrade over the decades-old architecture used on the previous Zeros, the port selection is ageing, but is still perfectly serviceable, and the performance is leaps-and-bounds above what previous Pi Zero boards offered. Command-line based usage is flawless, and for file servers, IoT projects, database hosting and data collection and processing the new Pi Zero offers incredible value. It's simply not a computer meant for desktop usage.
While testing it out, we've also brought over several server-based IoT project utilising a variety of sensors and interfaces over to the Pi Zero, and it crushed these tasks. The original project used several Pi 4Bs, each running a few Python scripts for real-time sensor data acquisition and writing to a database – something that the Raspberry Pi Zero 2 W did just as well (and the original Pi Zero had just enough slow-downs here to make everything feel clunky). The wireless connectivity also made it a literal drop-in replacement for this use case.
On top of that, the Raspberry Pi Zero 2 W simply uses less power and is lighter. In a mobile setup relying on battery power, or in a setup which must meet certain weight requirements, sometimes a bigger, more power hungry board is an actual drawback. Instead of focusing on what this board cannot do, it's much better to focus on how much it actually can do in such a tiny, efficient package. Under this light, it's even possible to see why Raspberry Pi might have decided to ship the 2 W with so little RAM – less power draw and lower production costs to make these as accessible as ever.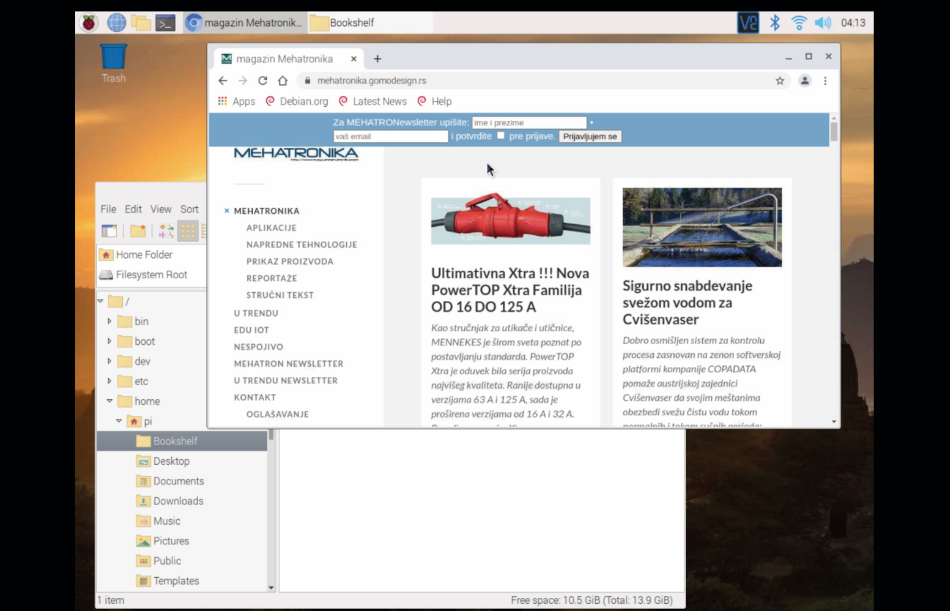 This is exactly what makes the Raspberry Pi Zero 2 W so amazing – it's a versatile, tiny platform that offers enough power for almost any project, from precise motor control to displaying simple UI elements, and all that at an incredibly low price point. It enables makers to worry less about caring for their SBC and get on with creating, because at the price point, you can always have a spare one to pop back in.
Once again, Raspberry Pi have created an excellent product that has its rightful place in the lineup, offering a viable replacement for the flagship Raspberry Pi models in most projects that don't require a lot of graphical processing. It's hit a perfect niche, and will probably better suit these than the higher-specced Pis in the lineup, mainly due to less heat output, power draw and a smaller footprint. Overall, while not a desktop computer in any way, the Raspberry Pi Zero 2 W is an exceptionally capable system for project usage available at an industry-leading price.
Latest posts by Dusan Dakic
(see all)