We love calculators. There's something charming about these tiny computers which were first contacts with programming for many aspiring developers. These devices were the desktops of the 1960s and the smartphones of the 1980s – with the market flourishing in this era with various and wonderful models, culminating in some of the most recognisable designs. With the advent of smartphones and other portable computers, calculators have fallen from their former glory. They still, however, retain an important place in education and specific scientific and engineering fields. This market is nowadays dominated by a few brands – with Texas Instruments, Casio, and to a lesser degree Sharp and HP having a firm grasp on the field. This makes it quite interesting and exciting that in Q3 2017 a completely new company – called NumWorks – appeared with their premier model – the NumWorks model N0100 calculator – simply branded the "NumWorks Calculator". A quiet revision upped much of the specs and gave the calc a much-needed memory boost. This newer N0110 model paved the way for many new features in later software revisions.
Before digging into the review itself, we'd like to mention that this NumWorks N0110 has been provided by the company to us free of charge for review purposes. As always, all opinions below are our own and are in no way influenced by the company.
First things first – the N0110 is sleek. That is the most immediately noticeable thing about this device. It's modern, it's slim and it's pretty. Even the box design is simple and unassuming in an elegant Apple-esque manner (makes sense given that CEO of the company is an ex-apple software engineer). Under the lid is a playful and beautiful calculator with a novel yellow-black marking design with grey accents. It's such a striking pretty design that every other calculator we've tried (except the HP Prime) absolutely fades in comparison.
The buttons also feel great and responsive. The font used on these is also great and extremely sleek. The screen is not laminated, sadly, but it does not present much of an issue, as it's plenty bright and has surprisingly great viewing angles.
The integrated 1450 mAh Li-Po battery is also as excellent as the screen and keyboard – providing the user with somewhere between 20 and 24 hours of constant use. It also charges quickly. And for charging, there's a yellow USB cable provided in the box. Yellow! Absolutely bananas.
The NumWorks  N0110 uses an STM32 ARMv7-based MCU clocked at 216 MHz, accompanied by 8 MB of flash and 256 KB of RAM. This seems puny by today's standards – but it's quite powerful for a calculator. In fact, the use of a modern ARM core is more than welcome – as most competing platforms still use ancient Z80 or SuperH-based CPUs.
Upon turning the device on, the beautiful design language continues dominating the experience. The modern Epsilon software is truly ready to bring calculators into the 21st century. We'll explore some of the best and most unique features in the continuation of the review.
Epsilon – the aforementioned software the calculator is running on – is a fully custom, lightweight OS made by NumWorks  N0110 . It's currently on its 19th revision – adding many great features to the system each time. The team is incredibly diligent about refining the user experience and it shows. Every aspect of the software has been lovingly crafted with utmost attention to detail.
It's intuitive even for first time users, with a clever app-based approach and logical menus. In fact, the menus are contextual – a first for us and calculators – offering "smart" predictions akin to those on a smartphone keyboard depending on the context of a calculation. While performing general maths, Epsilon might throw suggestions for absolute value calculations or an nth root, while on a graphing screen, inequality signs might be the top suggestions.
This "smartness" of the OS continues in various fields. For example, the grapher can plot some demanding implicit stuff, and is capable of plotting rectangular and polar graphs in the same field – which is an extremely rare feature. Even parametric functions can be added to the same plane as all of the other aforementioned types. Every result has an Android-like set of "three dots" next to it, which can provide some amazing additional info – from the result factorised, to secondary results, to quirky real-world references in case units of measurement were used in the calculation. This all makes math and science feel more alive and tangible – truly making the NumWorks  N0110 feel unlike any other calculator we've used.
In fact, now that we've mentioned Android – Epsilon does indeed feel more like a smartphone OS than anything else – making it more intuitive for first-time users than any other calculator system out there.
We've mentioned the general calc app and the grapher so far, but there are quite a few others, allowing you to easily solve equations or simple financial calculations, do stats and regressions, as well as inference problems and sequence plotting.
It's also important to note that almost all parts of the OS are custom, including the gritty backend stuff – with the Poincaré engine handling math, Escher providing the UI elements, Kandinsky handling the pixel-punching and Ion providing a layer of hardware abstraction and interfacing.
All of this custom and highly-optimised code leads to one final huge win for the device. We haven't mentioned yet that it can run Python code – and in 2017 it was the first model on the market to do so -and in 2022 it's still the calculator with the fastest and most effective Python interpreter! It's a great feat and we applaud it.
As a final note, we'll also mention the fully-functional online emulator and Android app – which are both free. If you want to try the experience before buying -or use a virtual NumWorks calc, these are a great way to feel if the system is right for you (and spoiler alert: it is).
Now – there are also a few minor drawbacks to the system that we'd like to mention.
While the stock software is very unique and has some key benefits, it's still lacking in maturity compared to the competition. Some features are still not present – but at the rate of updates NumWorks  N0110 pushes out, we're sure it won't take too long to fully catch up. After all, the platform is not even 5 years old, while platforms like the TI-84 have been in development for almost two decades.
Naturally, the user base is smaller and there's a general lack of third-party software for the device. Platforms like the Casio CG-50 and even the HP-Prime offer a wealth of third-party (and even some official) software to expand upon their functionality. This… well… there's another reason why this is, but it'll have to wait for later in the review.
There have also been moments where features have been removed from the system – like the removal of CAS (CAS stands for computer algebra system – enabling symbolic calculations) from Poincaré in Epsilon Version 11. This made sense given the positioning of the product as a mostly high-school oriented calculator – but the removal of a feature is never taken too kindly, especially when it's as defining as this one (some calculators even offer discrete CAS and non-CAS models, with the latter costing up to 20% more).
Some "leftover" CAS functionality in Poincaré does make it the most versatile non-CAS computing engine we've ever tried -and certainly contribute in part to its "smartness", but again, every time the calc spits out an undefined result to a question, it's impossible not to be reminded that this handicap was intentionally introduced years after release. And the reason for this leftover functionality is simple. The CAS was only superficially removed by making all uninitialized variables trigger the aforementioned result.
When NumWorks launched its first product in 2017, it tried to break the standard by being more open and transparent than competing companies. While operating under a somewhat restrictive Creative Commons BY-NC-SA licence, it still allowed for a lot of flexibility under the hood.
This decision made NumWorks stand out in a field of heavily regulated devices – and made it immensely popular within a community of developers and hackers. The openness of the OS and the fact that anyone could build full custom images with any missing features made even the aforementioned CAS removal pass without much backlash.
During this time, multiple spin-off operating systems were created – like Omega and Upsilon. These added back the removed CAS, as well as additional features – like theme engines, additional programming languages, improved performance and offered additional apps. These apps enabled RPN calculations, secondary CAS systems and much, much more.
Sadly, as the company grew and developed and found new target audiences, regulators pushed NumWorks towards adopting a safer, but much more restrictive policy in 2021. Epsilon went full closed source and the bootloader at the calculator's core was locked to prevent unauthorised software running on the device.
While this is a justified change, the way NumWorks handled it was rather poor. More than a year since the changes, the official website still lists erroneous information in the info and support sections about the openness of the platform – creating potential false advertising issues. The bootloader changes – perhaps even more important than the licence changes – have also been rather quietly shipped with a software update, thus inadvertently locking many existing users' devices.
To combat this newly closed system, Epsilon finally started supporting external apps, written in C++ or Rust, beginning with V16, the very version which locked down third party OS support. Sadly, this was also implemented poorly, with a limit of one app at a time installed – and with the app being unregistered from the OS on every system restart or power-down. Multiple issues with Epsilon's app and memory architecture (a RAM-based pseudo-filesystem, among other things) also provide obstacles that third-party apps have to overcome. All reasons combined explain why the manufacturer's own two demo apps are some of the only ones available for Epsilon.
In Epsilon V19 some of these issues are slowly being resolved. We hope that down the road, third party-app support reaches the openness and maturity of competing manufacturers' models. We'd love to see a vibrant ecosystem form around the Num-Works once again.
There are still exploits to revert to older OS builds for those technically inclined and not fearing extended research (and perhaps even some socialising) – and NumWorks is actively trying to squash the vulnerabilities used to gain access to the full bootloader. It's an arms race.
This was the end of an era for NumWorks – but an end which has been looming since the very beginning. And it's an understandable move. Making the platform more proprietary and disabling (well, severely limiting) the ability to run third-party code does make it more likely to be seen by regulators as a trustworthy exam companion.
With all of this said – is the NumWorks  N0110 still worth it, keeping the recent changes in mind?
We think yes! At a 79€ price point, the NumWorks  N0110 has modern hardware and modern software. While it still lacks some of the most advanced features of the FX-CG50 or the TI-84 Plus CE – its main competitors, it's competitively priced and way more intuitive and simple to use. Even the HP Prime – widely regarded as the greatest modern calculator on the market – feels somewhat outdated compared to the NumWorks  N0110 (and keep in mind that the Prime has a full touchscreen interface, even). The recent policy changes don't make the NumWorks  N0110 a bad calculator. They make it a different one, clearly targeted towards high-school students.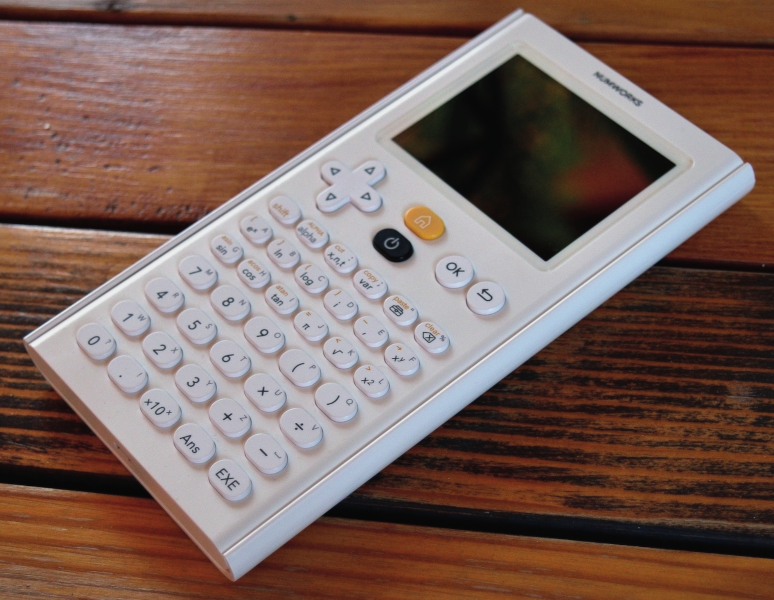 And with a great like for the product itself and great hope in our hearts, we look forward to the upcoming changes NumWorks makes to the calculator.
So, to sum it up – if you're looking for a fast, modern, beautiful and powerful calculator for a fair price – look no further. If you're searching for a development platform or an all-in-one calculation device, though, there might be better alternatives on the market – like the HP Prime – which may or may not, depending on the flavour you go for, cost significantly more.
Calculation
Perform a variety of computations involving complex numbers, matrices, trigonometry, combinatorics, derivatives, integrals, and unit conversions.
Grapher
Plot the graph of functions, curves, conics and inequalities, view the coordinates of your points, find key characteristics, and consult a table of values.
Solver
Solve equations and systems of equations with both exact and numerical solutions. Financial problems involving simple and compound interest can also be solved.
Statistics
Study data sets and view statistical values relevant to your set: mean, standard deviation, minimum or maximum and more. You may also plot boxplots, histograms and other graphical representations for your data set.
Regression
Create scatterplots and perform statistical computations on two-dimensional data sets. Plot regression models, make predictions and view residuals.
Inference
Study different probability distributions such as Binomial, Geometric or Normal. Perform hypothesis tests and construct confi-dence intervals for means, proportions and more.
Sequences
Plot both recursive and explicit sequences, view a table of their values and compute the sum of their terms.
Python
Write scripts and test them in an interactive shell. Python is an industry standard programming language you can use in class.
Variables
Store numbers, matrices, lists and functions and use them in your calculations and across applications more easily. Press the "copy/var" key to open the list of your stored values.
Toolbox
The "paste" key gives you access to an organized library of advanced functions: calculus, combinatorics, complex numbers, etc.
More information: https://www.numworks.com