Intel's NUC series of small-format PCs has been around for a while. Ever since 2012, Intel has been these in the now recognisable 4"-by-4" format. The lineup had had humble beginnings, usually sporting lower-end Celeron and Atom processors up until 2015, when the first NUC with a Core i7 hit the market.
These initial NUCs were designed to compete against "nettops", desktop counterparts to netbooks popular in the early 2010s, designed primarily for accessing the internet and not truly suited for more intensive workflows. As these formats slowly faded into obscurity by the mid-2010s, Intel shifted their focus to significantly more powerful systems and diversifying the lineup to include rugged and gaming oriented systems, seemingly trying to compete with both the Mac Mini in the office and emerging SBC computers for industrial and educational use.
There are several sub-categories within the NUC range. The NUC Pro line is no-nonsense series of computers based on high-efficiency chips and forms the heart of the offering, suitable for both professional and personal use. NUC Enthusiast and NUC Extreme models often offer discrete graphics and more powerful H- and K- series CPUs and are aimed at gamers, while Enterprise and Rugged models offer advanced features for specialised uses.
Comparing the NUC lineup to SBCs is more sensible than you might initially expect. Intel's consumer-oriented NUCs ship as preconfigured, enclosed systems, decked out with storage and RAM at the factory, and are usually preloaded with an OS, as well. Slightly more bare-bones NUCs, referred to as "kits", ship without any storage media or RAM (and, naturally, no OS), but with an enclosure, giving the user more choice but also requiring more work to get up and running. Finally, Intel also provides NUCs in motherboard-only variants, designed for industrial and embedded applications.
This does explain what makes a NUC tick — it's essentially a single-board computer. Intel's own website promotes NUCs as perfect solutions for "gaming, business and edge compute", highlighting the versatility of their small form factor, low power usage and desktop-level performance.
That's enough of an introduction, so let's get started with the NUC 12 Pro before us. We'd like to thank Intel and ASBIS for providing us with the unit for this review, along with some additional components required.
Tech specs
Our NUC 12 Pro unit (RNUC12WSKI30002) came with an i3-1220P CPU, a 10-core, 12-thread processor based on Intel's new hybrid architecture. This hybrid architecture is the most radical change of the Alder Lake generation. In the case of our Core i3 chip, there are eight high-efficiency Gracemont "E-cores" and two performance Golden Cove "P-cores". This setup provides a highly energy efficient chip which is still capable of providing great performance in more demanding workflows. Only the two P-cores support hyper-threading, but the total thread count of 12 still remains impressively high for a chip in this price range.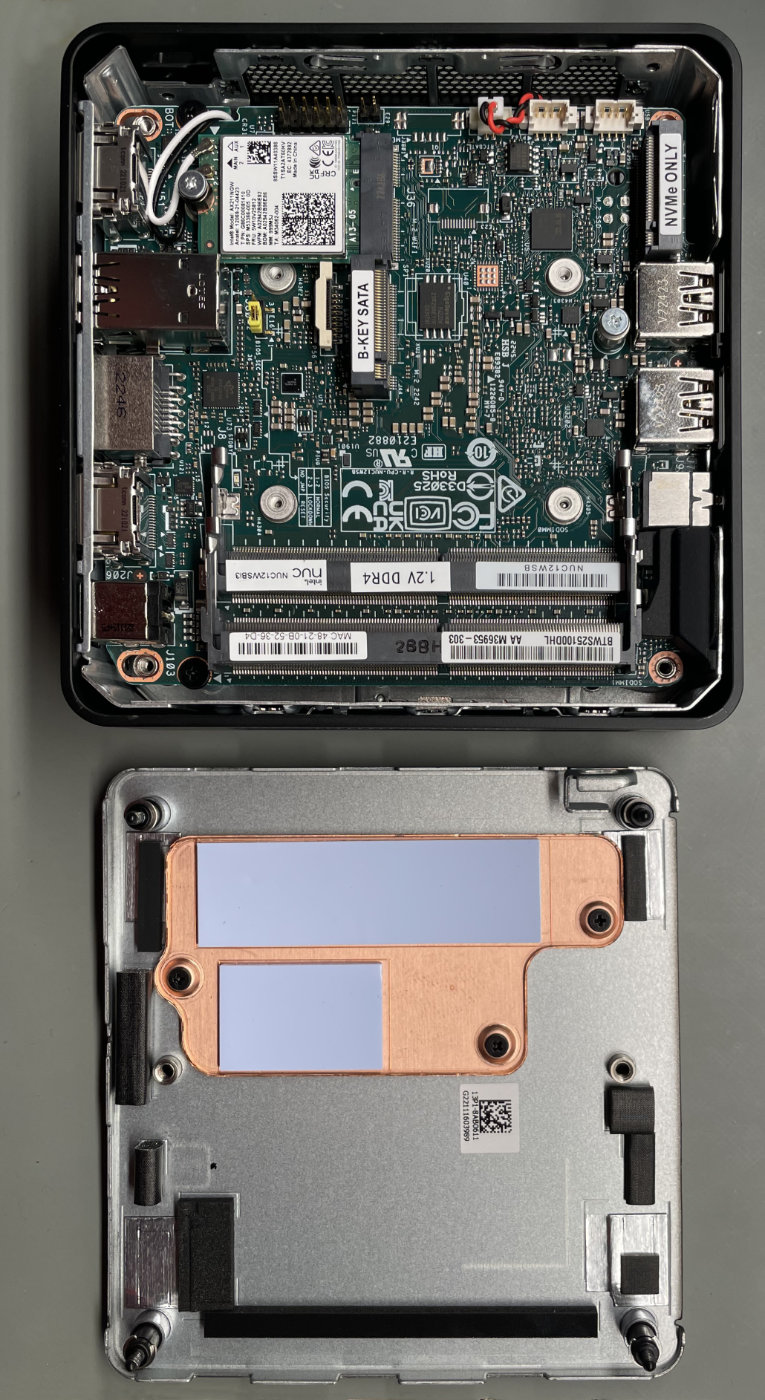 The integrated GPU is a 12th Gen Intel UHD Graphics one, clocked at up to 1.1 GHz. It features 64 EUs and supports up to 7680 x 4320 panels via DP and 4096 x 2304 panels via HDMI. While Intel UHD GPUs have come a long way, it's a shame that this remains the only CPU from the Alder Lake P series not to get the new 96 EU Intel Iris Xe GPU, which is significantly more powerful.
The system supports up to 64 GB of DDR4 RAM at up to 3200 MHz, and has two RAM slots. Upgradeable memory in a device this small is a rarity these days, and allows for much more flexibility in various use cases for the system.
There's no onboard storage either, so you'll have to bring your own. Thankfully, there's an M.2 2280 Key-M slot for NVMe SSDs, as well as a 2242 Key-B slot for SATA SSDs. Each NUC configuration also comes in two heights: a smaller "slim" model and a larger "tall" one. The only difference between the two is in the expandability department, as the tall models have extra space for fitting an additional 2.5" SATA drive and an IO expansion card.
NUCs are also notable for mostly featuring Intel's own hardware, even when it comes to comms systems. The NUC 12 Pro uses the Intel i225-V Ethernet Controller and the Intel AX211 Wi-Fi 6E wireless card which both offer blazing fast internet performance. 2.5 Gbps Ethernet is a treat on a small-format computing device and Wi-Fi 6E (802.11ax) support alongside Bluetooth 5.3 is reassuring, especially in terms of future-proofing.
The port selection is equally impressive. There's two HDMI 2.1 ports on the back, and two DP 1.4a interfaces are available via USB-C ports next to these. There's true four-monitor support here, too, which is more than most realistic use cases would require. The two DP-enabled USB-C ports are USB 4.0 ones, and also feature full Thunderbolt 4 certification, which enables extremely fast data transfer and the use of eGPUs or other PCIe-based expansion units.
There are two USB 3.2 Gen 2×1 Type A ports on the front panel, and one more on the back. The backplate also features a USB 2.0 port, presumably meant for keyboards, mice and other low-speed peripherals.
Both of the USB 4.0 ports on the back support the PD standard, as does one of the front panel USB 3.2 ports, all capable of supplying 5V/3A. This is an incredibly valuable addition, which even allows for powering of larger development boards, SBCs or storage drives.
Of course, the backside also houses a 2.5 Gbps Ethernet port, which we already mentioned, and a 12-20 V DC barrel jack power connector. Finally, the front plate features a 3.5 mm audio jack next to the USBs, and a power button.
There's a few interesting internal connectors too, more suited for embedded use. Two USB 2.0 port are available via a set of headers, as well as a front panel IO pin-header and two service headers for BIOS security options.
This is where the (impressive) port selection ends for slimmer-chassis NUCs. Taller ones, as previously mentioned, have an additional slot for expansion cards which can add additional Ethernet, USB or other ports.
It's clear that the stars of the show on the entire NUC 12 Pro lineup are the USB 4.0 ports, which are still rare on even higher-end devices. The whole IO selection is modern and packed with great features. Most importantly, it won't go out of date or feeling limiting even a few years down the line, which is a big plus.
Design
With its sleek all-black exterior, the NUC 12 Pro is quite an unassuming device, tiny enough to fit into any space. The case is made from a durable matte plastic with metal screens covering the air intake vents. We wish these screens had a finer mesh integrated in their design, as there's really not a lot stopping dust from accumulating between the heatsink fins in the stock design. Only time can tell, but we hope not to notice significant thermal performance degradation due to dust buildup.
Even with a mostly plastic exterior, the unit feels extremely sturdy and hefty thanks to its internal metal frame. Importantly, the case is quite easy to open, with four captive screws (nice touch — we have to commend the design team every time these are used in hopes that more companies will adopt the practice as standard) holding the bottom plate in place and a set of clips securing the top one.
This allows for easy access to the main logic board with its RAM and storage slots. The top plate is easily removable for access to the cooling system, but also for expandability. Intel provides CAD files for the original covers which can be edited for a custom look or for expanding port selection or providing additional space for internal components which can be connected to motherboard headers.
Overall, it's a lovely way to add some personality (or extra utility) to your NUC 12 Pro, and we commend the user-serviceable design. Even with a soldered-down CPU, upgradeable components are sure to extend the device's useful life for a few years and help combat e-waste.
Performance and thermals
For nearly a decade, the big.LITTLE architecture has been the standard for higher-end ARM chips. Additionally, numerous fabless vendors have benefited from advancements in lithography through TSMC's refined 5nm process nodes (with 3nm nodes on the horizon). Competitors had made a few steps forward, and Intel had to keep up by quickly adopting several new technologies.
Heterogeneous architectures and smaller process nodes significantly enhance the performance-per-watt metric by addressing transistor leakage. Although Intel's 10nm node may seem outdated (TSMC has been producing 10nm chips since 2016), it's essential to recognise that modern process nodes' actual designs often have little correlation with these numbers; they have become marketing jargon. The introduction of FinFET MOSFETs led companies to label their process nodes based on performance-per-watt ratios, scaling down the process name number accordingly, and often non-linearly, resulting in misleading names.
While Intel may be somewhat slower in adopting smaller nodes (given today's naming conventions) and has faced challenges in the past, running behind their own planned schedule, the company tends to meticulously refine and optimise each process, surpassing similarly marketed competitors' technologies and delivering impressive performance gains. This trend has been observed over more than half a decade with the 14nm node and now continues with the 10nm node.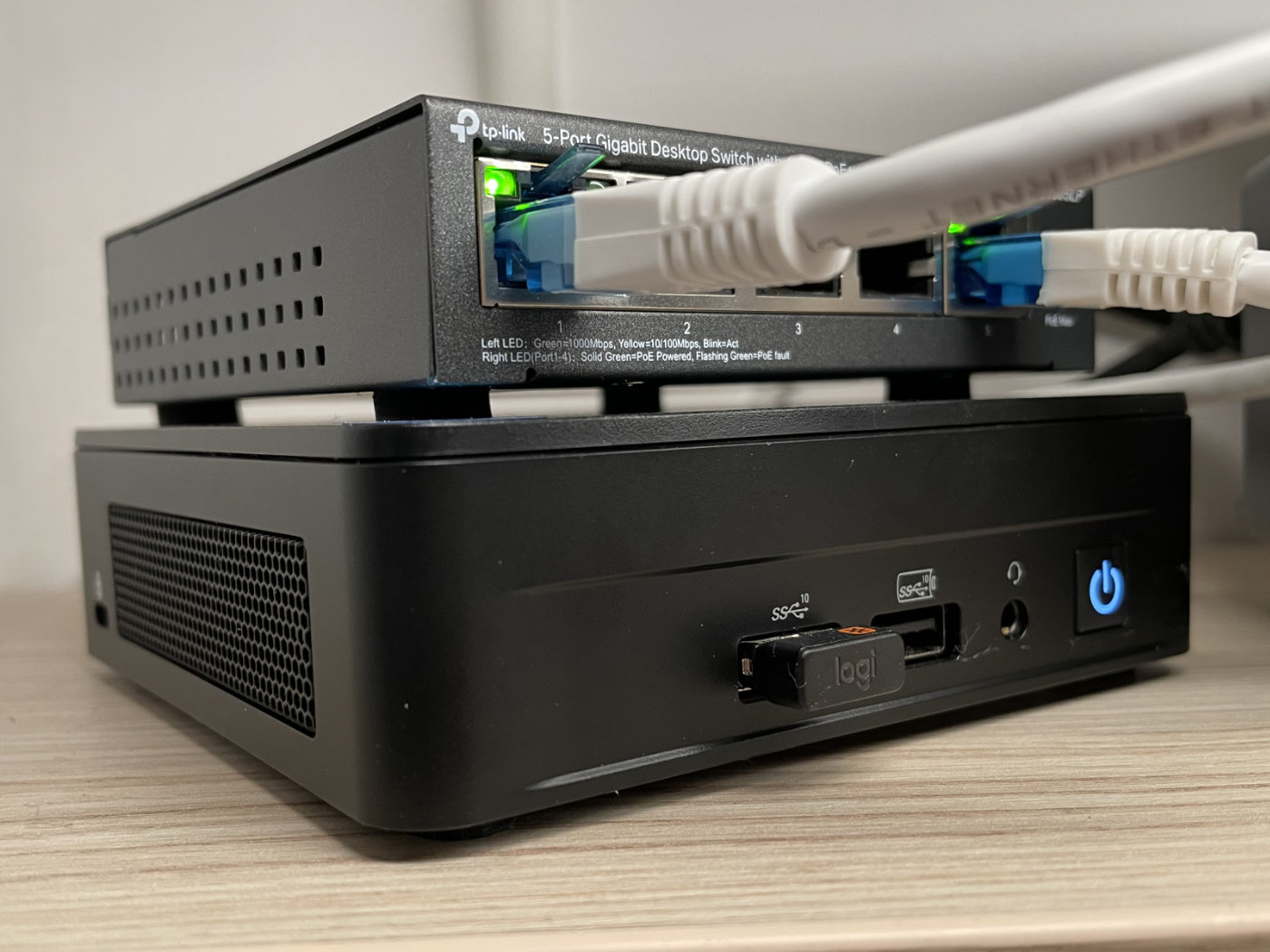 With all of that said, it's somewhat clear why the i3-1220P, at the time of its release, a mobile processor with a base TDP of just 28 W (and a maximum TDP of 64 W), was the fastest Core i3 processor released up until then — desktop chips included. This means that our NUC got itself a pretty powerful chip, capable of heavier workloads. As we'll shortly see, 12th Gen chips truly mark a major leap ahead for Intel, both in terms of raw performance and power efficiency.
Moving on to benchmarks, we ran our usual suite of tests which should cover all major areas of a chip's performance. As always, it's important to note that no benchmark is fully immune to driver issues, hardware configuration specifics or just OS quirks, so consider these numbers more a general indicator of a system's performance than set-in-stone metrics.
Running Geekbench 5 on the Core i3-1220P NUC got us a respectable 1 715/7 578 single and multi-core score, respectively. These are comparable numbers to a 9th Gen desktop Core i7-9700K (which usually scores around 1 720/7 300), which is seriously impressive.
In the newer Geekbench 6 test, we got a 2 417/8 379 score, having single-core performance on par with the 12th Gen i7-12700K (the benchmark, was in fact, calibrated on this processor — with its single-core performance being set as the reference 2 500 point mark), and half the multi-core performance. Yet another pair of impressive results here!
Both of these tests are great markers of general CPU performance, testing a wide variety of loads. The Geekbench 6 benchmark is slightly more accurate in providing results for hybrid CPUs, like the one we're testing today, as its newer tests account for differences in core architecture.
Moving on to the Sysbench CPU, a benchmark which heavily relies on CPU frequency, as it's built on a series of relatively simple operations. We get a great 1 459.39/12 730.87 score for single and multi-core runs, respectively. This score is high above what you'd see on even the best ARM-based SBCs on the market — like the Jetson Orin Nano (even though these two were built for significantly different tasks and have strengths in different fields) — and above many x86-based SBCs, too.
The OpenSSL cryptography speedtest showed just how far Intel's AES-NI implementation has come. Having 10 CPU cores also helps the i3-1220P achieve these impressive results.
We ran tinymembench to check general RAM performance. While RAM doesn't come pre-installed with the kit, we used two 8 GB sticks of Crucial 3200 MHz DDR4 SODIMM RAM, which should not present any bottlenecks, thus allowing us to properly gauge the NUC's RAM controller.
The results here show a similar level of performance to the Orange Pi 5, another board which seemingly uses dual-channel RAM clocked at around 3200 MHz. These are objectively good results, and demonstrate the importance of dual-channel memory, even in small-format system.
Talking about RAM, the Sysbench RAM test also gave great results: 14 533.77 MiB/s. This is about the level of performance you'd expect on a desktop system, given the RAM specs. Of course, both tinymembench and Sysbench scores do benefit a bit from the faster processor, as well, but that doesn't bring into question the great RAM speeds which the NUC is capable of.
Unixbench gives us another set of great results, around three times as high as current RK3588-based SBCs. Again, comparing ARM cores to x86 cores in a benchmark is never ideal, but this suite of tests tries to level the playing field by keeping the tasks relatively simple.
Our legacy set of tests includes Octane 2.0, BMark, glmark2 and glxgears. These tests are wildly affected by OS versions, drivers, libraries and pure luck, so we consider them curiosities which might sometimes be of value rather than strict benchmarks — interestingly, their unreliable nature might sometimes in a weird way accurately model actual usage, as we've often seen a correlation between these scores and real-world "snappiness" of a system.
Octane 2.0 gave us a score of 85 741 points. This result denotes a great level of software stability and a powerful enough CPU for great online-based experiences.
BMark gives an impressive 9 629 point score, while glmark2, ran at 1080p resolution manages an average of 1 019 FPS. Ran at its native resolution, it manages 3 401 FPS. glxgears gets 11 487 FPS over a five-second average. These results are somewhat weird, especially compared with the Jetson Orin Nano's significantly more powerful GPU which got a worse score in the easier native-res glmark2 run, but a better score in the upscaled 1080p version. This points to probable driver issues for CUDA cores on Linux (which is a well-known fact), and especially ARM versions of it.
Overall, we don't have to point out that this is a great set of results. Intel's mobile 12th Gen processors keep up with their desktop counterparts in single-core performance, the latter being some of the fastest consumer CPUs on the market. The new process node and hybrid architecture improve energy efficiency significantly, while also allowing Intel to upscale the number of cores while keeping die sizes low and yields high, keeping prices reasonable.
Thermal performance here is also great. The default governor tries to keep core temperatures below 70 degrees, which is conservative, but more than enough overhead for the powerful fan and heatsink to avoid throttling thanks to the bulky cooling solution. Even after more than an hour of fully stressing all 12 threads using s-tui, we had no thermal throttling to report — and the chip never even went over that 70 degree mark, either. The fan is also rather quiet. It's definitely audible under full load, but it also spends most of the time running at low speeds, where its noise is almost not perceptible.
Software support and use cases
As with all x86-based systems, software support isn't an issue. Most software was written with these processors in mind, and they support the most OSs. Being able to run full versions of Windows and most Linux distributions is lovely, as it translates into much better software support for the end-user, simplifying many tasks.
We recommend Ubuntu as the OS of choice for the NUC 12 Pro, mostly because of the feature-set it offers. Windows works fine, but installing requires fiddling with some drivers (thanks to Microsoft's insistence on an internet connection during first boot, and Intel's new internet cards being unsupported by Windows .iso files).
Now, Ubuntu isn't just the better choice because of a cleaner installation procedure, but also because of the real use-cases for a system like this. Like we mentioned before, the NUC lineup has elements of both an SBC and a conventional desktop, being positioned somewhere in the middle.
Thus, the versatile form-factor is ideal for many use cases. NUCs make perfect computers for schools, where their integrated components minimise chances of failure and simplify hardware administration, while lowering electricity costs when operated in larger fleets. Their low power draw, 5-7 times lower than that of an average desktop PC makes them perfect for integration into systems where lower power draw is essential. Their small size also makes them great dedicated workbench control units, ideal for overseeing and managing 3D printer fleets, CNC machines and other computer-reliant equipment and running CAD/CAM software.
In the service and retail sector, NUCs have already proven as point-of-sale systems, while their embedded and rugged variants have proven unbeatable for outdoor IT installations, like info kiosks, digital advertising billboards and smart signage.
On a smaller scale, they also make for great SOHO hosting machines, providing a reliable experience for websites, databases and other distributed applications thanks to fast connectivity. Finally, they are ideal devices for programming and development, being great remote target systems while having enough power to run full IDEs, as well. The i3-1220P (and naturally, higher-end chips, too) are more than capable of running several virtual machines in parallel, making modern NUCs suitable for quickly testing multi-platform code.
The NUC has a vibrant community of enthusiasts who utilise them for home use, as well. These machines are much more powerful than a Raspberry Pi and many of its competitors. In some scenarios, this speed bump is crucial, especially when it comes to media servers like Plex and Jellyfin or hosting resource-intensive application-oriented services. Game emulation and home automation are also popular enthusiast uses, as is simply having a dedicated secondary computer for running Linux.
Finally, as long as modern gaming isn't your primary concern, the NUC 12 Pro is more than qualified to be a primary computer (and with an eGPU connected, a decent gaming experience might even be possible).
Price and alternatives to the NUC 12 Pro
Like any product on the modern market, the NUC series isn't without its fair share of contenders. Companies like Geekom, MSI, HP and Lenovo offer enticing lineups of small computers with unique features (though, NUCs often have the most bells-and-whistles while managing to be the smallest of the bunch).
With its $350 MSRP, the Core i3-1220P NUC 12 Pro is an extremely good deal, especially considering the $309 MSRP of the processor itself. If you're looking for a little more power but are set on a NUC, it's worth checking out the Core i5-1240P and Core i7-1260P models from the same series, with $698 and $901 MSRPs, respectively. The main difference between these is the number of performance cores, clock speed and iGPU setup.
For around $550, there's a large selection of laptops with the same Core i3-1220P chip, but often with less upgradeability options and a worse IO selection, which might be a worthwhile tradeoff it if portability is of interest.
For simpler projects, or those requiring low-level GPIO access, traditional SBC series like the Raspberry Pi, Orange Pi, or in the x86 world, LattePanda models still offer great value and unique features and might be worth checking out.
Still, Intel's first-party support is unparalleled, and the price-to-performance ratio of NUC Pros, especially entry-level ones, is hard to beat. There's a lot to love with NUCs and plenty of cases where they truly best fit the bill.
NUC 12 Pro: conclusion
For the price, Intel truly gives a lot. A top-notch port selection, great performance, fast connectivity and great thermals grace this tiny computing box, making it capable enough to be an everyday computer. Its true strengths, however, lie in its power efficiency and expandability, making it a serious tool for computing at the edge or for smaller servers. It's perfect for large scale deployment in education, as well as for smaller workspaces requiring dedicated computers for certain tasks.
As usual, there are several small gripes — but it's nothing major, and there are way more good surprises scattered throughout the design for us to knock any serious points off the score.
According to Intel, NUC stands for "next unit of computing" — meant to represent the lineup's goal of bringing computing systems to places where it had been difficult to do so before. And they've succeeded, creating upgradeable, affordable and performant little machines which truly have a place in every workflow.
---
More information: ASBIS d.o.o., Cara Dušana 205a, 11080 Zemun, Beograd, Republika Srbija, Kontakt telefon: +381 11 31 07 700, www.asbis.rs